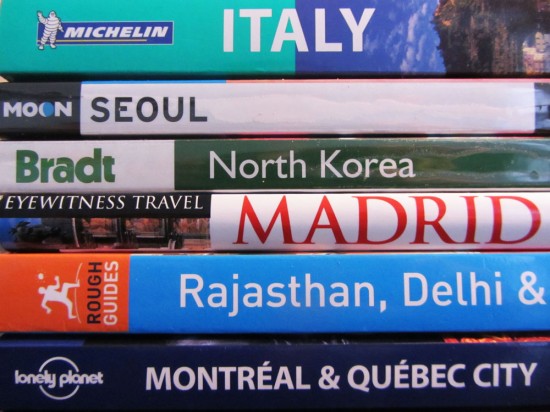 A guidebook is just what the name implies – a guide – and it shouldn't stop you from seeking out your own unique experiences when you travel. But taking the right guide with you can save you money, ensure you see the things that are most important and prevent you from making any faux pas.
Selecting the right guide out of the many on the market isn't an easy choice – and if ever there was a time when you shouldn't judge a book by it's cover, this is it! Here are some questions to ask yourself when picking your guidebook:
How many places are you going?
If you're traveling to multiple locations, you'll find there are plenty of guidebooks that cover a large chunk of turf, such as Western Europe or all of Africa. This can be useful if you're traveling through a developed place with a large tourist trail and just need your guidebook to function as a brief point of reference. But if you're going somewhere a bit off the beaten track, you might find these all-in-one guidebooks a bit light on detail.
How much time will you be spending at each of your destinations?
If you're traveling through a number of cities all in different countries, there's no need to buy a guidebook for every country – unless you have a mule to haul all your books for you. Instead, consider downloading only the chapter of the guidebook that you need (Lonely Planet, for example offers individual book chapters in pdf format). You can print these out and then ditch them after you've passed through the city.
Do you have room for flexibility in your trip?
It's possible you might go to a new place, fall in love with it and completely rearrange your vacation in order to spend more time there. If you think this may happen to you, make sure you have the full country guide rather than just the city guide. It gives you the option of going to other places you hadn't previously considered.
What level of detail do you want?
Personally, I've found different guidebook brands fulfill different needs and I've used the majority of them at one point or another. I think Lonely Planet is nice for quick reference, e.g. trying to find accommodation or a place to eat. It also makes it easy to get an overview of what a place is like, which can be very useful in the planning stages. Other brands like Rough Guides or Footprint are sometimes a bit more comprehensive when it comes to providing cultural or sight-specific information – something that can make for fun reading on the road. And if you need help deciding which places are worth visiting, you might like Michelin's Green Guides, which use a star system to rate cities and attractions. Their guides are also excellent if you plan on driving.
Having made these broad generalizations, I think it's worth noting that so much comes down to the individual guidebook – remember even within a brand, each book can have a different author or multiple authors. So when comparing brands, you really need to look at all of the different books available for a given destination and see which fulfills your needs.
How important are visual references?
Most guidebooks include a couple of pictures, but some, like the Eyewitness Travel Guides by DK, are distinct for their bountiful visuals. This can be really useful in places where there's a lot of architecture or art to see, as the guidebook will point out specific details and tell you what you're looking at. This kind of guide can also be beneficial for visiting historical sights, as it can help you envision what those broken pillars and crumbled ruins would have once looked like.
What kind of budget are you on?
Hotel and restaurant recommendations can vary widely from book to book – some guides focus heavily on budget options, while other guides lean towards the upscale establishments. Some have a nice smattering of both, which can be handy if you're on a low to mid budget but like to splurge every once in a while. Whatever your case, you should flip through these sections of the guide to make sure it fits your criteria.
Does accuracy matter?
An out of date guidebook could mean that the hostel/hotel referenced in your guide has doubled in price since the book was printed two years ago. This may not matter to you if you've booked a lot of things in advance, but it can leave you out in the cold if you're on a tight budget and traveling during the high season. Also, some places – China for instance – are developing and changing so rapidly that the bike rental shop mentioned in your book might not actually be there anymore.
What is the physical book like?
Little things can make a big difference to how much you get out of your guide. Flip through the book and ask yourself if it's easy to find what you're looking for. Are the maps clear and detailed? Some guidebooks have thicker pages and big print which adds bulk, but makes them easier to read as well as more durable. On the other hand, those with thinner pages and fine print might pack more information into the same space – but the pages can be like tissue paper and get destroyed when you try to mark them up with your own notes. You also want to ensure the book isn't so heavy that it's a pain to carry around.
Conclusion
The bottom line is, choosing a guidebook is a very personal choice. I've used books from many different companies, depending on where I was going and what kind of travel I was looking to do. It pays to do a little research, because sometimes the lesser-known guide can be the best one, particularly for more out of the way destinations. For example, I used the Bradt guide to Ethiopia and loved it. The company certainly has an interesting selection of books – they even have a guide to North Korea! So while it's handy to have a tried and true guidebook brand, don't be afraid to take a shot with something new – after all, you now know exactly what to look for.