Andy Warhol once said, "in the future, everyone will be world famous for 15 minutes."
Have you gotten your 15 minutes?
No?
Yes, but want more?
Well keep reading, because today I'm talking about how you can be immortalized on film alongside some of the biggest movie actors in the world.
Indian movies, if you've ever watched one, are interesting to say the least. There's a lot of singing, dancing and colorful costumes, more singing and dancing, and generally a plot about a boy, a girl and forbidden love. They're kind of silly and kind of cool at the same time. And they are many.
India's film industry is officially the biggest in the world, and when I say big, I mean crazy big – the country churns out about 1000 movies per year, and sometimes twice or triple that number (Hollywood, by comparison, averages about 600 films a year). The most high profile movies are the Hindi-language ones shot in Mumbai – these are the ones known as "Bollywood" films. And these are among the ones you can appear in.
How?
Well it's practically a rule that every Bollywood movie has to have a scene that takes place in London, Sydney, New York or some such western city. Which poses a problem when you film in Mumbai: where do you find white people to be in the background to make the setting believable?
That's where foreign travelers come in.
My husband, Adam, was lucky enough to be among those foreigners who have found themselves on a movie set in Mumbai — so read on for my Q&A with him about what it was like being a film extra in India and his tips on getting involved…
How did you end up in a Bollywood movie?
I was backpacking through India for several months and I found Bollywood movies to be pretty interesting. I'd heard that foreigners are often used as extras, and that the Salvation Army Red Shield Hostel in Mumbai is a good place to sign up, so I asked about it when I stayed there and the guys who worked there took care of the rest.
What was it like acting in a movie? What did you have to do?
When you arrive at the film lot, you're usually not told much about the movie. You certainly don't see scripts or anything like that – they basically just tell you what you need to know to act your part.
My scene took place at a bar on a cruise ship (not on a real ship – everything was filmed on a set). The female lead was (of course) doing a dance number with way more backup dancers than any human needs. We as bar patrons were meant to watch the performance, but also talk to each other, drink, and behave just as you would if you were at a nightclub. Occasionally, extras get lucky and find themselves with a one-line speaking role, such as being a bartender or hotel clerk.
What do you feel like you got out of the experience?
Well, I was paid $10 and got fed!
But more importantly, I got to see what creating a movie is like behind the scenes, and got an inside look into something that's such an integral part of modern Indian culture. As action-packed as many movies are, the actual filming is usually a very slow process with many takes. There was actually a lot of waiting around and it was boring at times, but how often do you get to be in a movie, or joke that you're a movie star in India!
It's the perfect icebreaker with Indians you meet who ask about how your trip has been. And I find I instantly got a lot of street cred at the neighborhood Indian grocery and video rental shop!
How can other travelers go about doing this?
Ask about it at your hotel or hostel as they'll almost always have relationships with casting agents who come to them to get foreign extras. If that doesn't work, ask around at Leopold's Café (in Mumbai), a popular hangout spot for foreigners. When I was there, the Salvation Army Red Shield Hostel was known as the best place to go to find a gig as a Bollywood extra, but I don't know if that's still the case or not. Hotels that cater towards backpackers are often more active in placing film extras than hotels frequented by business travelers, so you could check around at the cheap hotels in Colaba.
Ask around when you first arrive in Mumbai and have a flexible schedule, because you never know what days they'll need extras for. You can usually do it for just one day if you like, but they generally prefer to have you for a few days if you can spare it.
Casting agents that need extras at the last minute often approach foreigners in Colaba. Many legit casting agents do this, and I've never heard of a scam surrounding it, but as always in India, you need to have a healthy skepticism of anyone who approaches you out of the blue on the street, and keep your bullshit detector well-tuned.
Also keep in mind that while Bollywood (which is the film industry that specifically makes Hindi language movies) is the best-known, other cities in India are also home to large film industries of their own. So if you're traveling through places such as Chennai or Hyderabad, for example, you might also find opportunities to star as an extra there.
Do you have any tips about how to prepare for the experience?
There are a couple of things worth keeping in mind.
First of all, you need to remember you're an extra and you're meant to be in the BACKGROUND. As much as you might hope this is your big break into stardom, you have to understand that your job is to act very ordinary and not attract attention to yourself. If you do strange things and don't stop, they'll likely throw you out.
Secondly, come prepared with clothes. Because my role was part of a bar scene, there wasn't any special wardrobe or makeup. We were just told to wear nice clothes like we would to a bar/club. This is a great example of why even if you're a backpacker, you should have one "nice" outfit for situations when you need to be a bit more dressed up. Also, the film crew weren't very happy that one of the extras had a beard at the time (of course now a beard would make him look more like an authentic New York bar patron!), so go ahead and shave your "travel beard" if you've been on the road for a long time. And if you don't get any wardrobe direction in advance, wear the "nice clothes" that will work in any situation, not typical hippy-style traveler clothes, which will almost never be what they want.
Thirdly, bring a few items to help you get through what will be a very long day. The crew pick you up from your hotel early in the morning, and you won't be back until late at night. The weather is generally very hot and you'll be sitting around a lot, as well as having long waits between meals. So I definitely suggest taking a book or something else to keep you occupied, as well as some snacks to keep your energy up.
And finally, remember to find out the title of the movie you're in! Bollywood makes so many films that you'll never figure it out otherwise. Definitely have someone write down the movie's name so you can track it down and watch it when it's released.
Oh, and break a leg!
If you enjoyed this post, please consider sharing or retweeting it. Thanks!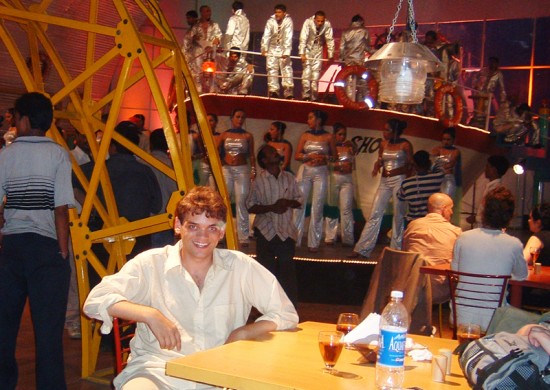 {Adam on the set of a Bollywood movie}