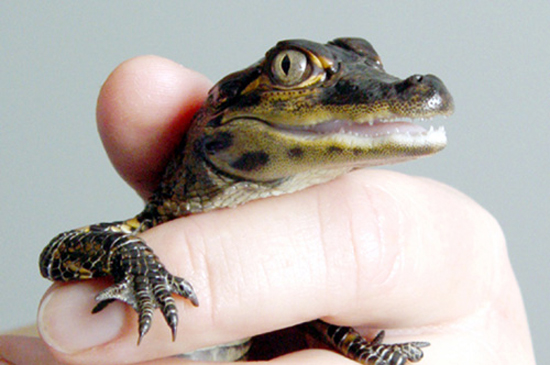 When I was a kid growing up in Australia, I remember a popular children's song at the time was Never Smile at a Crocodile. While most children's songs are really just gobbledygook, this one actually offered some pretty sage advice. After all, crocs are vicious things. Coming face to face with one — let alone smiling about it — was ill-advised unless there was a thick sheet of glass between you and it – at the zoo.
Well, they're not crocs, but I've come across a bunch of alligators that will give you reason to smile. In fact, you'll probably be squealing with delight as I was when given a chance to play them.
Why?
Because they're babies.
Yes, itty-bitty baby alligators!
The Insta-Gator Ranch and Hatchery in Covington, Louisiana is home to more than 2,000 alligators and works to preserve both the American alligator species and the local wetlands.
A visit to the ranch includes a lecture about how the ranchers carefully harvest the alligator eggs from the marshes without being attacked by the parents. You'll also get to see the gators' quirky third eyelid (it's clear and allows them to see underwater) as well as what happens when the alligators are turned upside down (a severe case of vertigo).
But the fun really starts when you step inside the enclosure holding the adult alligators. Since we were literally a jaw-length away from these fully grown reptiles, our guide told us to keep our hands behind the small half-wall separating us from the alligators. Not something we actually need to be reminded of, so no problem. It was feeding time after all.
Perhaps it was because of his warning, or perhaps it was a result of the deeply internalized children's song about crocodiles, but I was more than a little taken aback when our guide stepped into the water with the alligators to demonstrate feeding techniques. But this wasn't some sort of self-sacrificial stunt. On the contrary, the moment the guide's booted foot hit the water, the alligators started cowering away, pressing themselves against the back of the enclosure. It turns out that although they could eat a human, they generally don't see us as prey. Or maybe they just don't like the way we taste. After all, we weren't exactly tossing them slabs of raw meat during feeding time. No, it seems these alligators have a sweet spot for marshmallows.
Our tensions eased, we quickly emptied our handfuls of the soft, powdery treat into the water and watched them disappear in swift bites. What everyone was really waiting for was playtime, when visitors are ushered to a miniature swimming pool where the little baby alligators are frolicking. And when I say frolicking, I mean it – really, it's insanely cute – they'll be paddling around with their teeny feet, or spread out on a little rock, sunning themselves.
You're given plenty of time to pick them up and play…and there's no need to worry about the kids getting hurt by those sharp little teeth either. The alligators' mouths are taped firmly shut for the duration of the visit.
It's a great photo op – one that can only be topped by watching the alligators hatch. Yep, and not only can you watch them hatch, but the ranch will actually hand you an egg and allow it to hatch in your hand. But you'll have to visit during hatching season (generally the month of August) to experience that.
The Insta-Gator Ranch and Hatchery is located about an hour from New Orleans at 23440 Lowe Davis Rd, Covington, LA 70435, USA.
If you enjoyed this post, please consider sharing or retweeting it. Thanks!