Regular foot massages might seem like a bit of an extravagance in our normal lives (especially since we're all mostly sitting all day anyway) but when traveling, they can be a great way to indulge tired and achy feet.
I recently got to experience the pleasure (and pain – but we'll get to that in a moment) of Chinese foot massage when I visited Shanghai. For about $25, my feet were bathed, massaged, scrubbed, rubbed, wrapped, jiggled, prodded and just about anything else you can imagine for a good 90 minutes.
Unlike Swedish or other forms of massage that most Westerners are used to, Chinese massage employs a lot more pressure. I think the idea is pretty much that if it doesn't hurt, it isn't doing anything for your body. So while you do feel great after the massage, the actual process is rather intense and even painful at times. Learning a couple of words in the local language would definitely come in handy here. At the top of my list would be, "softer, please!"
I recommend visiting a spa with a local if at all possible, since the massage therapists' English is generally pretty limited, and we found we got all sorts of "free upgrades" because we were with someone who spoke Chinese and was able to ask for them. That and the fact that you'll get all sorts of quirky insight into what the masseurs think is wrong with your body (I apparently don't wear warm enough clothing over my knees in winter – see the photos below for more on that).
Note: There are plenty of places in China offering foot massages (some for as little as $5 an hour) and while a lot of these are perfectly reputable, some are also fronts for prostitution. So do your research or ask a trusted local for a recommendation, and if all else fails, you can be pretty certain that the spas and massage parlors at the major hotels will be safe and sanitary.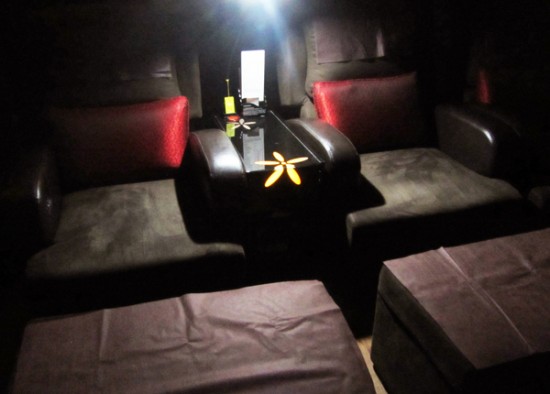 {Super-comfy reclining chairs for you to kick back in.}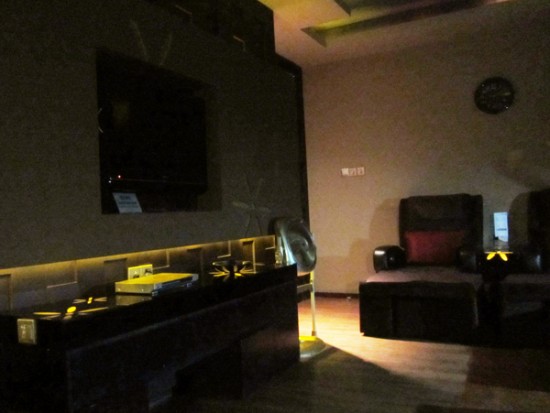 {Yup, that's a TV in your massage room, so you and your friends can watch DVDs. At first, I wasn't sure why you wouldn't just want to close your eyes and focus on your massage… but I soon realized that a distraction wasn't such a bad idea for helping you get through some of the more uncomfortable parts of the foot massage.}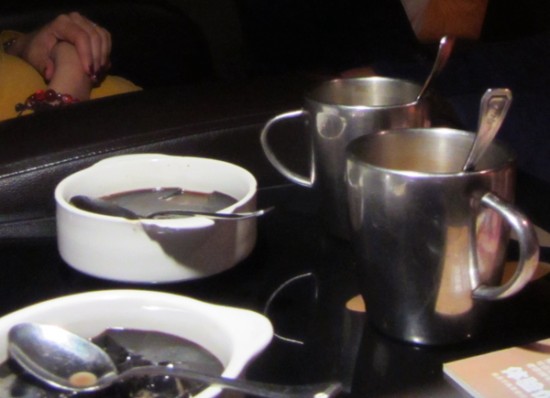 {The massage parlor offers free food and drink to guests. Our Chinese friend encouraged us to try a black jello that's said to be good for the skin. I can't say it particularly appealed to my Western palate (see the teensy bite I took). I wonder if that has anything to do with the fact that it's made up of ground up turtle shells?}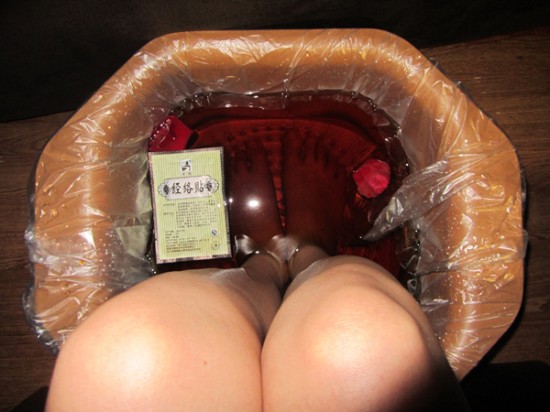 {The treatment begins with a piping hot herbal foot bath. The packet floating in the water is an (evil) ginger patch that is being warmed up.}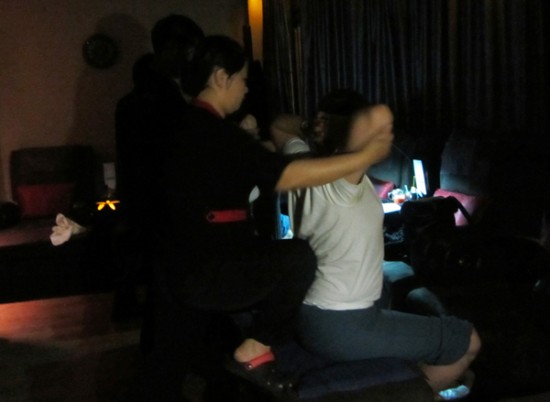 {As part of our upgrade, we get mini back and shoulder massages. This involves a firm knee to the spine and twisting of the arms in a way I'm sure nature didn't intend.}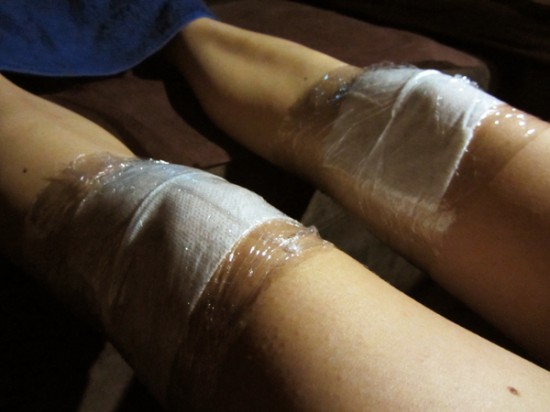 {The aforementioned ginger patches are placed on the knees and secured with cling wrap. Their purpose is to remove "humidity" from the body.}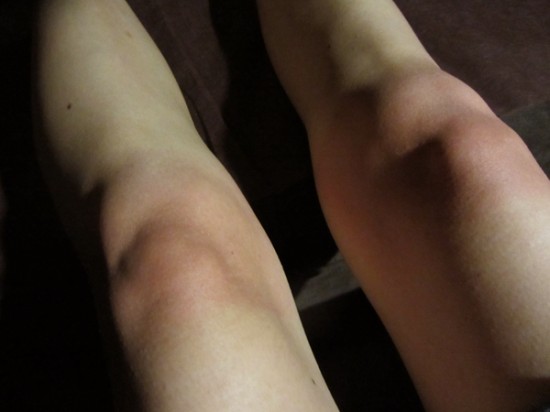 {The ginger patches slowly get hotter and hotter until they're burning so badly I'm convinced they're melting through my skin. Within a few minutes, I'm frantically ripping at the cling wrap in a desperate bid to get them off. These photos really don't do justice to just how red and painful my knees were. The rest of my group didn't find the patches bothersome at all, but that, according to the masseurs, was because they didn't have as much "humidity" as I did.}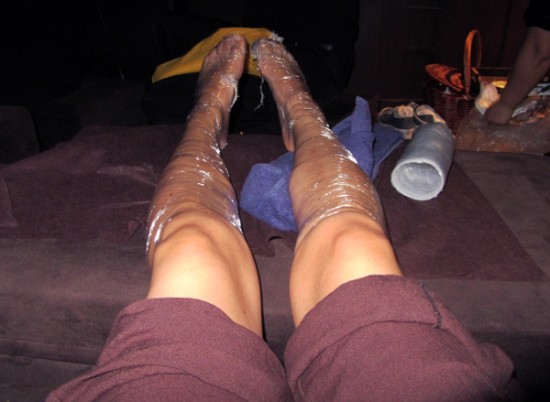 {Our legs are lotioned up and wrapped in cling foil to seal in the moisture.}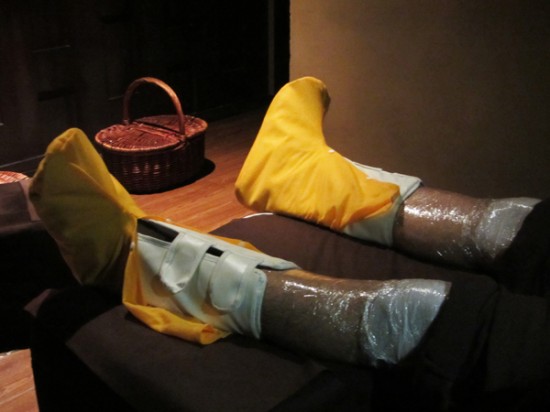 {Electronic socks massage our feet and release heat to help the skin lock in moisture. Kinda ticklish, but definitely awesome.}