When I saw this awful news story about foreign tourists being abducted and killed in Ethiopia recently, it reminded me of when I was planning my own trip to the African nation and had to figure out which places were safe and which weren't. That can actually be a tricky thing if you're relying on most government travel advisory websites, which tend to err on the side of caution. In my experience, they either tell you that the country in question is dangerous (in a rather blanket sort of way) and that you should "exercise extreme caution," or they simply tell to avoid going at all.
While that can be good advice in many circumstances, it's not necessarily helpful if you have to travel to that country, or if you are pretty sure that parts of the country are safe (e.g. just because there's trouble in certain regions of Mexico, it doesn't mean the whole country needs to be avoided). What you want in this situation is detailed information about precisely which places to avoid and why. For this, I haven't come across a better site than that of the British Government's Foreign & Commonwealth Office, which doles out more nuanced advice than its American, Australian, Canadian etc. counterparts do. The FCO website provides travel advice by country, with color-coded maps to show you the level of threat across the nation and detailed descriptions telling you which regions, cities or even markets to avoid, right down to the kilometer. By looking at this kind of highly specific information, I was able to figure out that the historic circuit I wanted to visit in Ethiopia was essentially safe to do so (while several other areas along the country's borders were not).
Once you're actually on the road, social media is a great way to stay informed of the latest travel advice. The FCO's twitter feed is one that's worth following as it provides real time updates of transport strikes, severe weather warnings, unexpected curfews, demonstrations and so on, all around the world. The US State Department's feed may be useful too, although I am not a huge fan of the extraneous tweets about digital photo cropping and what not that sometimes fills up their stream.
And finally, if you find yourself in a hotspot unexpectedly (e.g. an unforeseen demonstration occurs, something that can happen just about anywhere these days) get on twitter and do a search – while you can't trust everything you read, it's still one of the fastest sources of information during a crisis.
What do you think? Do you have any other suggestions on where to get detailed and helpful travel warnings? How do you decide which destinations are safe enough to visit?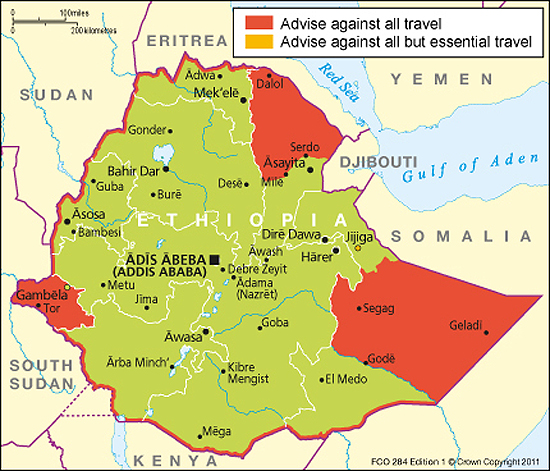 {A map from the FCO website detailing the safe and unsafe regions of Ethiopia}