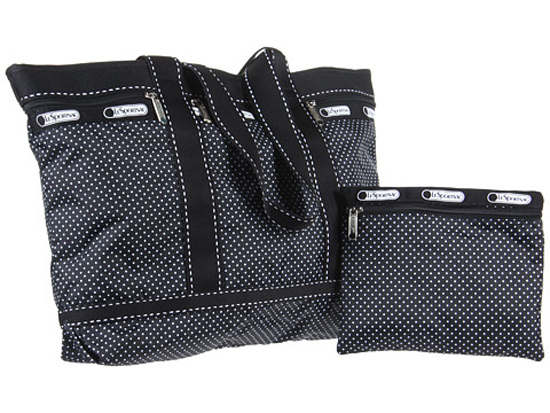 Different kinds of vacations call for different kinds of daypacks – a bag that you can carry around during the day filled with all your sightseeing essentials.
I've been on the hunt for the perfect bag for a summer beach vacation and I've finally found it. Enter the LeSportsac Medium Travel Tote.
What makes this bag so great? Well first of all, it weighs practically nothing when empty. That's just what you want because once you fill it with a book, water, a camera, a towel, sunscreen and everything else – it'll weigh more than enough. You don't need the bag adding any extra weight.
Second, the bag is washable. Yup – you can toss this baby into the washing machine… so even when it gets covered with sunscreen and travel grime you can revive it for your next vacation.
Next, it has a zip top. Sounds insignificant I know, but you'd be amazed how many bags have no closure at all. I'd rather not make life easier for pickpockets, you know?
And finally, the polka dot print is the perfect go-anywhere design. The bag looks equally in place at the beach, while sightseeing in town, and on the plane as your carry-on.
A holy grail summer tote if ever I found one.