On my recent trip to Greece, I was surprised to find myself falling pretty hard and fast for the local food. I'm the kind of person that's usually drawn to hot and spicy ethnic cuisines, so although I knew the Mediterranean diet would be healthy, I didn't expect it to be so flavorful.
A large part of what seems to make Greek food taste so good is the use of the freshest ingredients available – the tomatoes are bright red and perfectly ripe, the olives are succulent, the fish is wild caught the same day it's served, and so on. As a result, you really get to appreciate the natural flavors of the food – enhanced by a few choice herbs and seasonings like rosemary, basil and of course, olive oil.
One restaurant I found that did this really well was the Karavaki Restaurant on the island of Mykonos. The restaurant, which is part of the Vencia Boutique Hotel, aims to create dishes using the highest quality meats, cheeses and produce that can be sourced locally. The restaurant offers Mediterranean as well as Greek cuisine, but the real focus is on traditional Mykonian gastronomy. This includes everything from Grilled Mykonian Sausages to traditional Mykonian Cheese Pies to the Mykonian Salad – a blend of rocket leaves, traditional Mykonian sour cream cheese, smoked pork fillet, grapes scented with olive oil, drizzled with a balsamic and honey dressing.
Drooling yet?
You can wash that all down with any one of a number of Greek wines. Greece produces a number of varietals that aren't found outside the country, but fortunately the staff at Karavki is helpful in making recommendations on which unfamiliar (but delicious!) wine will go best with your dinner selection.
Guests are encouraged to linger at the restaurant – which frankly, is not hard to do. The alfresco dining area overlooks the Aegean Sea & Mykonos Town and is particularly spectacular at sunset. Scroll down to see pictures of the view as well as the beautifully plated dishes.
*I was a guest of the Karavaki Restaurant.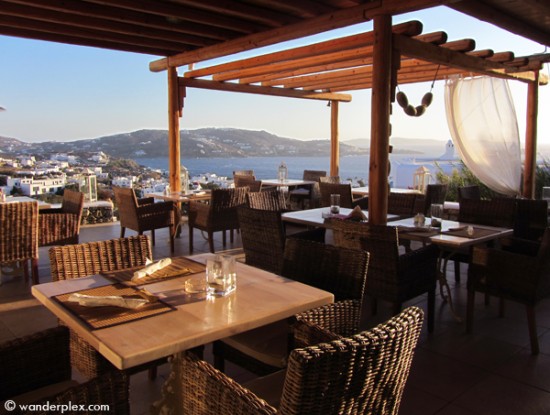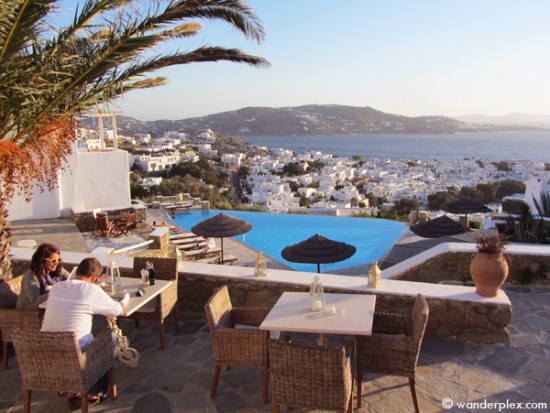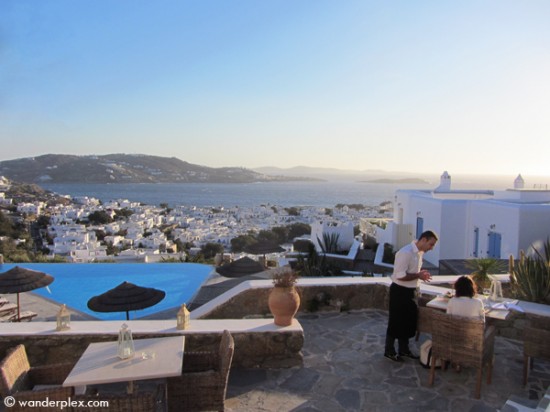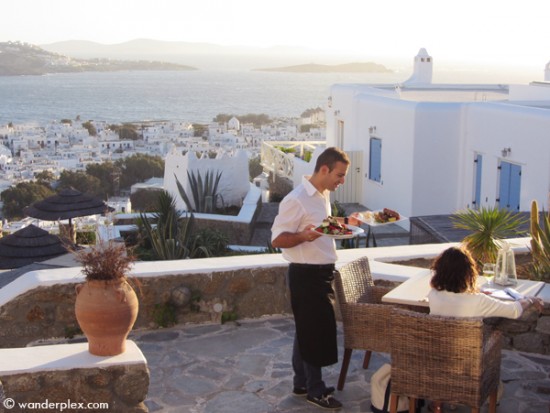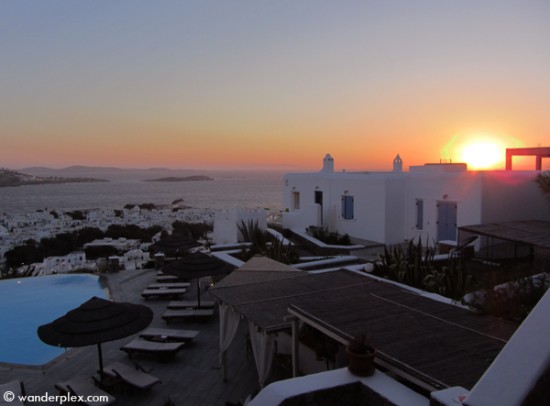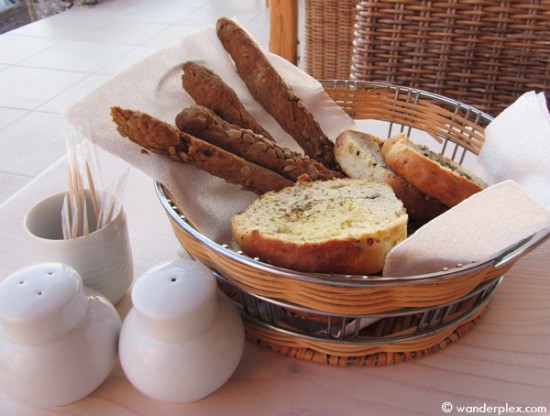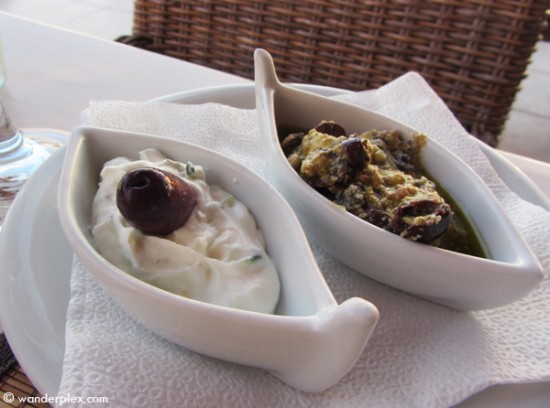 {The bread basket is accompanied by tzatziki and olive & feta dipping sauces}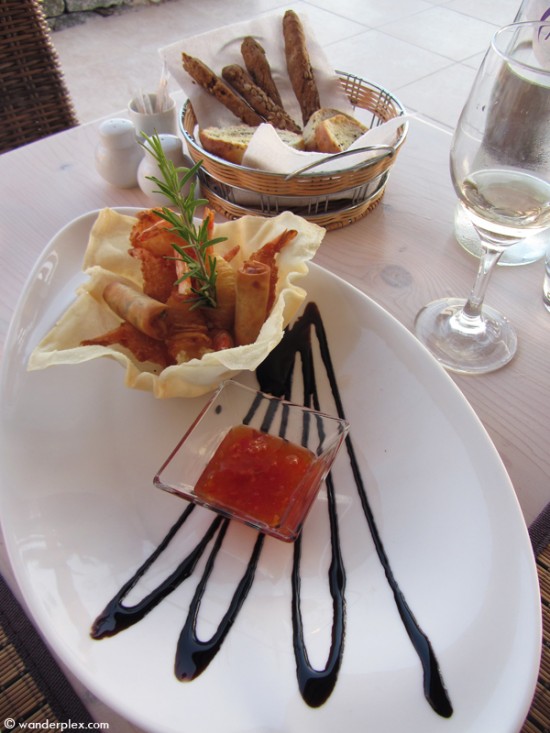 {Battered shrimp and spring rolls with balsamic and sweet chilli sauce served in an edible basket}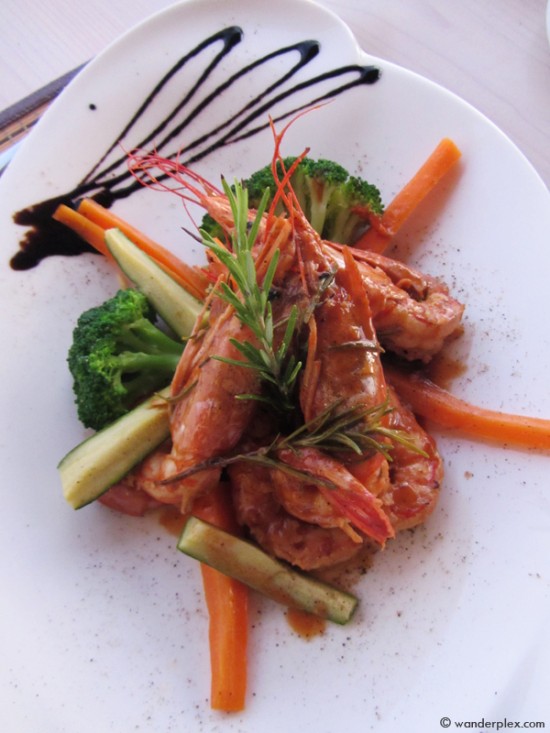 {Shrimp with rosemary in a honey and ouzo sauce. Ouzo is a greek liquor with a licorice-like flavor}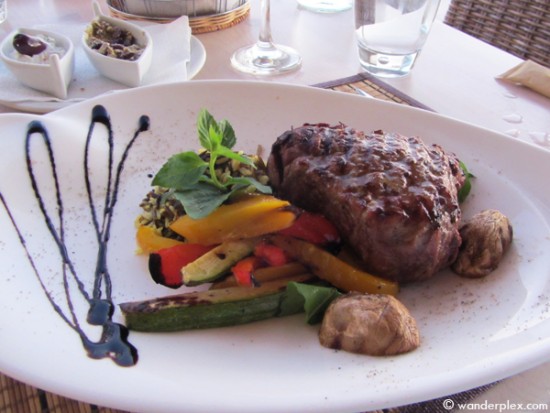 {Grilled veal fillet with wild rice and vegetables}
{Dessert! White chocolate mousse with berries and chocolate sticks, chocolate soufflé and coconut gelato. And yes, I ate it all}