If you've spent any time traveling over the past couple of years, you may have noticed how the global economic downturn has pushed cultural events off the calendar. Festivals are cancelled or downsized, museums are closed or suffer irregular opening hours and work on archaeological sites all but comes to a halt.
As a tourist, it's pretty annoying. But lack of investment in history and culture goes beyond simply being frustrating – it's something that can have a real economic impact too. The New Acropolis Museum, located in Athens, Greece, is a great example of how strategic investments in a country's heritage can have a positive impact on everything from tourist numbers to the longevity of artworks & relics, and of course, the economy.
Culture & tourism drive Greece's economy
Tourism is the biggest sector of the Greek economy making up 16.5% of GDP and employing one in five Greek people. A large part of what draws tourists to the country is its ancient history and culture, but despite this, the cultural sector has been pushed to the backburner because of financial problems.
Stories like this one, about the effect of Greece's debt crisis on its performing arts sector and ancient monuments, really illustrate the point. In addition to museum closures and festival funding cuts, a huge concern are the hasty building projects taking place: in order to keep costs down, workers are forced to rush through road work and other construction. That puts ancient artifacts and archaeological remains (which are frequently discovered during routine construction work) at risk of damage. In other words, waiting to invest means a part of Greece's history and culture could be lost forever.
Many other countries are facing this same issue – grappling with the dilemma of investing in art and culture during tough economic times. However, a great example of how investment in culture can draw tourists – and consequently economic reward – is the New Acropolis Museum, which opened in Athens in 2009.
An expensive but successful investment in Greece's heritage
At a cost of €130 million (175 million USD) the New Acropolis Museum wasn't exactly cheap to build, but if visitor numbers are anything to go by, it was well worth the investment. In 2010, the Acropolis Museum was the most popular tourist attraction in Athens with 1.3 million visitors passing through its doors. That means more people visited the museum than the Acropolis itself, which drew 990,000 people.
The museum was designed to house Greece's historic relics, in particular, the friezes and artifacts from the Acropolis which had previously been crammed into a tiny 800 square meter museum or simply kept in storage due to lack of exhibition space.
At 25,000 square meters, the new museum is gargantuan in comparison and displays 4000 artifacts over its three floors. Touring the exhibits is an experience designed to mimic a journey up the Acropolis: the ground floor is angled like the slope of the Acropolis and is lined with objects that were found along that path; while the third floor Parthenon Gallery is oriented to imitate the layout of the Parthenon (which is actually visible through the museum's glass walls).
A reason to return to Greece
It's not easy increasing awareness and excitement for something as well known as Greece's ancient heritage. Many visitors to Greece choose to breeze through the capital or skip it altogether and head straight to the country's picturesque islands. However, with ten times as many artifacts on display as the old museum, the New Acropolis Museum has not only generated a great deal of publicity and buzz, it has also given prior visitors to Greece a reason to return, and given tourists a compelling reason to stay in Athens an extra day.
Thanks to the steady influx of visitors, the museum has managed to stay afloat based solely on its earnings. According to the museum's annual report, the institution hasn't needed any help from the state budget, despite the country's economic woes.  The museum is entitled to government subsidies but the museum director says he doesn't want (or need) to take any.
"We wanted to create a healthy organism," he says. "We thought that having economic independence would make us more energetic in trying to attract more people to the museum."

– Dimitrios Pandermalis, Museum President.
Preserving cultural relics for future generations
The museum has also been integral to preserving the famous carvings of the Acropolis for future generations. Ancient sculptures and friezes – which had managed to survive for thousands of years despite war and turmoil – were being damaged by modern air pollution and acid rain. The originals are now on public display in a protected and controlled environment, halting the damage. This also enables visitors to appreciate the artistry of the sculptures up close, whereas previously they could only be seen from far away, high atop the Parthenon temple (detailed replicas are now placed on the temple which is undergoing reconstruction). The steps being taken to restore and preserve ancient artifacts helps to ensure Greece's cultural heritage will be an economic engine for the long term.
A source of pride in tough times
The New Acropolis Museum has been a source of national pride for the people of Greece during these difficult times. It has also bolstered Greece's long-running campaign to seek the return of the so-called "Elgin Marbles" from the British Museum. From 1801 to 1812, Scottish diplomat Lord Elgin removed roughly half of the surviving sculptures from the Parthenon, and these Greek artifacts currently reside in the British Museum where they are one of the star exhibits. Greece has been seeking their return for several years, but Britain has long argued that it wouldn't return the marbles because there was no suitable place to display them in Athens. The campaign is still ongoing, but has no doubt been strengthened by the existence of the New Acropolis Museum.
The bottom line
The New Acropolis Museum is a great example of how smart investment in the arts can drive huge economic benefits through increased tourism. It also preserves the country's cultural heritage, ensuring that it'll provide economic benefits for years to come. The bottom line? The museum isn't just a lesson in Greek history and mythology, it's also a lesson in how cultural investments can pay off.
Scroll down to see pictures of the museum and learn more about what's on display.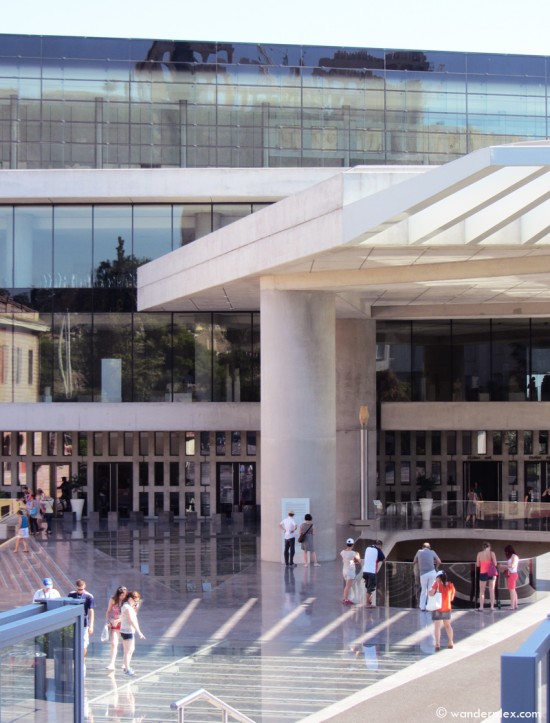 {The New Acropolis Museum cost €130 million to build}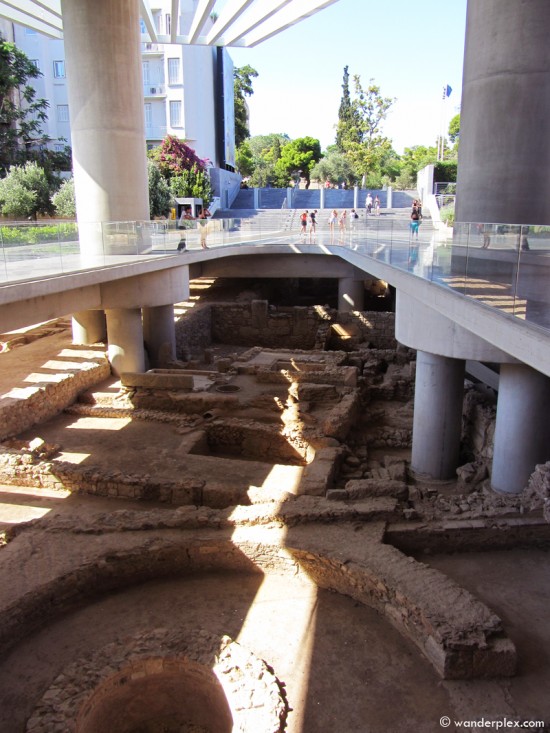 {The museum is built raised off the ground by stilts in order to preserve the archaeological remains that were discovered during construction. Transparent materials used in the flooring of the museum allow visitors to see more of the remains}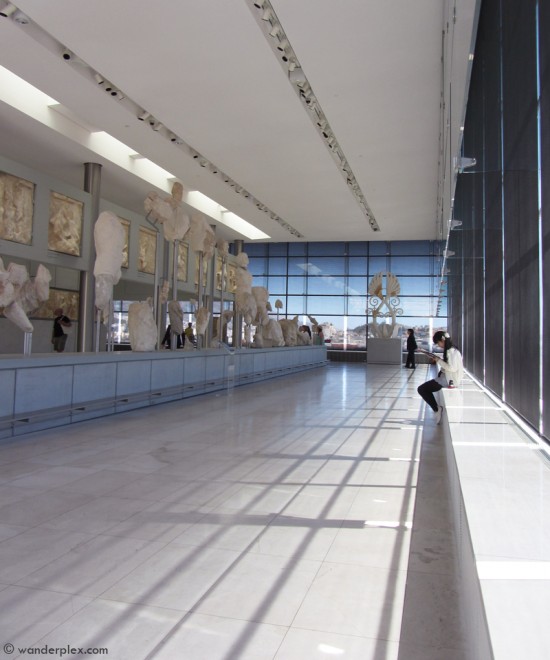 {The Parthenon Gallery on the third floor is the museum's main attraction. The layout of the parthenon friezes mimics the orientation of the Parthenon, which is visible through the floor to ceiling, UV-coated, glass windows}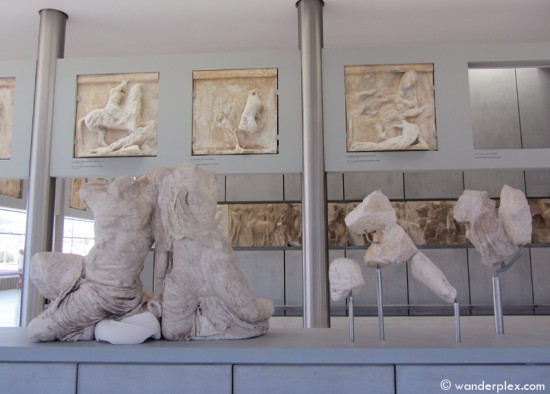 {The Parthenon frieze tells the story of the Panathenaic Procession. The majority of the frieze is actually missing and is filled in by plaster copies. These missing pieces, which were removed from the Parthenon by Scottish diplomat Lord Elgin in 1801, are on display in the British Museum. Greece has been campaigning for the return of the so-called Elgin Marbles for many years}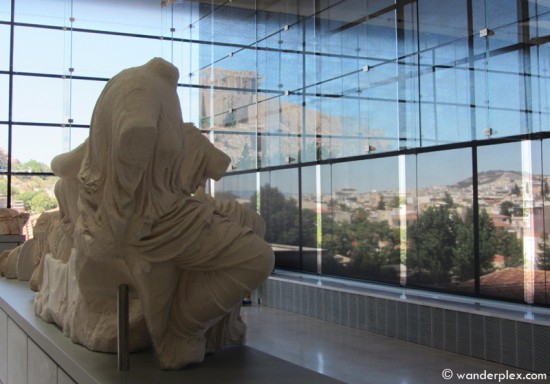 {The contemporary structure is made of concrete, steel and a special UV-coated glass}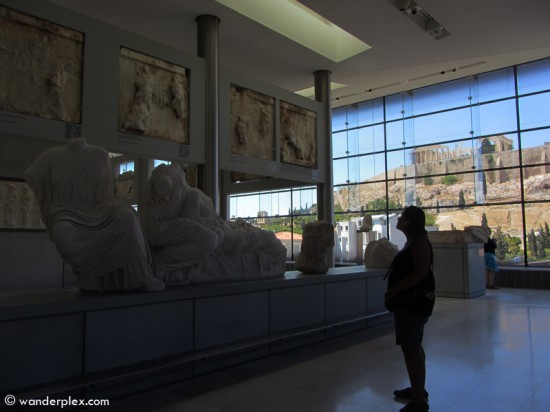 {The Parthenon is visible from the inside the museum}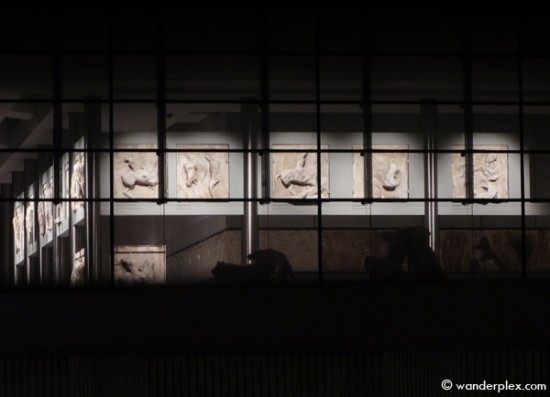 {The Parthenon frieze lit up at night}