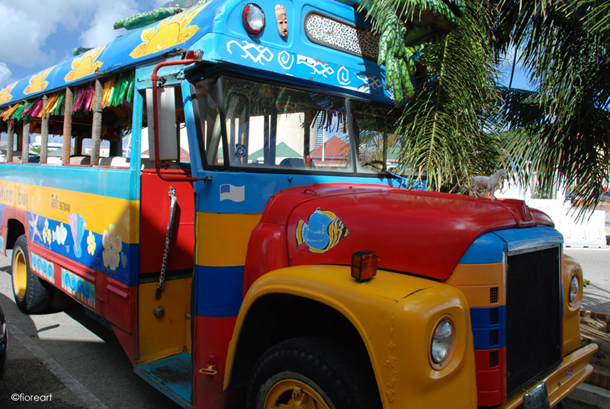 You have just gotten off a cruise ship in a foreign country. You are exploring a port on your own for the day having decided not to take a ship-sponsored tour. So what happens next? How you choose to get around can make a big difference in your experience. Here are four transportation options when exploring port towns, each with different benefits.
Explore On Foot
This is the easiest and least expensive way to explore town. Ask questions of the crew and have locals point you in the direction of places or activities you are interested in. There is often a colorful public market, beach, museums and plenty of shops within walking distance of the pier. Don't be afraid to look around the corner and venture down streets that look interesting and reasonably safe.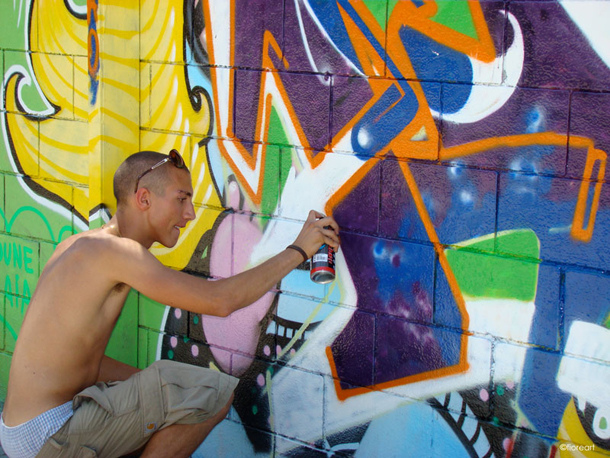 In Barcelona, Spain there is a wonderful legal graffiti art wall, public market, Gaudi architecture and Las Ramblas (pedestrian walkway lined with stalls and street entertainers) near the pier.
Hire A Private Cab
Taxis and minivans line up at the pier and are readily available in many ports. You can often catch a cab to a popular destination such as a beach with pick up service several hours later. You can also hire a private cab for several hours. This can range from $10 to $30 dollars an hour depending on the location with developing countries offering less expensive fares than European countries.
I often hire cabs so that I can take photographs away from the tourist haunts and stop wherever I want along the way. Several times the driver has taken us to his village where we were able to see the public market, local school and other off the beaten track sights.
Make sure the cab driver speaks more than a little English and don't wander too far from the cab. More than once, our driver has warned us when it was time to leave and steered us away from trouble spots.
When choosing a taxi, be sure to find a cab that can operate independently and actually take you where you want to go. On the Caribbean island of St. Martin, the cab drivers are very organized and dispatch from a set location near the pier. These drivers have specific routes and stopping points. I thought I made it clear when hiring the cab that I did not want to go to the tourist markets – but that is where I ended up anyway. I later found out that to get an independent cab you need to walk the short distance to town and find one there. To avoid the same scenario, I suggest taking notice of whether cabs are dispatched by a central leader and asking if they have specific routes they follow. It can also be helpful to ask the ship crew about the cab situation ahead of time.
Rent Cars Or Scooters
Renting a vehicle is a great way to explore an island or surrounding countryside of a port town. You can linger in an area, take a break for lunch and stop anywhere that looks interesting at a lower cost than a taxi would be.
Rental agencies are conveniently located near the pier and are aware of ship schedules. There will be rental rates for 4 or 8 hours rather than the traditional 24 hour period. If you own a car back home and your insurance policy includes rental car insurance, then there's no need to pay the additional fee to insure the rental vehicle. Bring your car insurance ID card in case it is requested.
Consider reserving a car in advance. When I rented a car on Kauai, Hawaii, the person at the reception desk told me that she had just rented the same car to the person in front of me in line for $20 less per day. It was because that traveler had booked their vehicle online using a third party site. You can easily make a booking online by searching Google for "car rental companies in [your destination]".
Depending on the town, you may have a choice to rent from well known car rental companies or local businesses and individuals. For example, in Moorea, French Polynesia, there are tents with car rental companies located near the pier. Several of the well known companies are represented along with a local car or two. Well known company cars tend to be more expensive so I took a chance renting a vehicle from a local woman and have done so several more times on return trips with good results. Local cars tend to not be as clean and new as the chain rental company cars but have proven reliable, at least in my experience. Regardless of whom you rent from make sure you get a phone number to call in case of a breakdown – you do have to make it back to the ship on time. Also make sure you pick up a local map from the agency so you don't get lost.
I find that my US driver's license is normally all I need to rent a car. However, you may be asked for a credit card deposit, so bring one with you. On the Caribbean island of St. Kitts the rental car company took us to the local government office where we had to purchase a temporary driver's license in order to rent a car. This was expensive and took more time than we liked, however it was worth it to drive around St. Kitts. We would not have discovered the monkeys in the jungle on the south end of the island had we not adventured out on our own by car.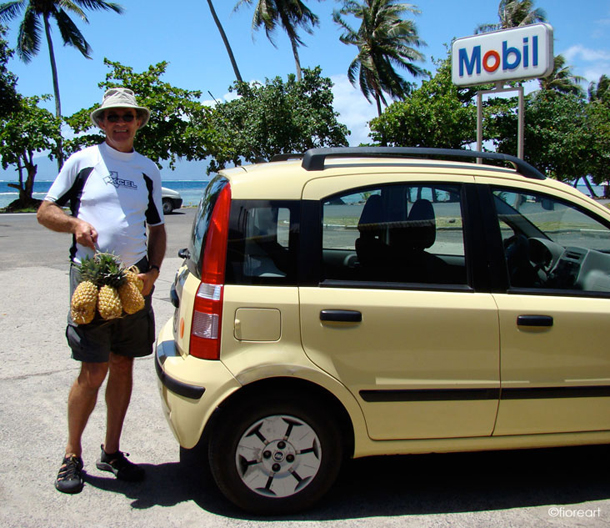 We would not have come across a service station selling 6-packs of pineapples in Moorea if we had not ventured out by car. Driving also allowed us to get to an out of the way snorkeling spot at the far end of Moorea.
Take Buses
I am a fan of taking local buses. Some of my most memorable adventures have been via public buses. They are a great way to cover a distance to another location away from tourist haunts and port towns, as they are an especially great way to mix with the locals.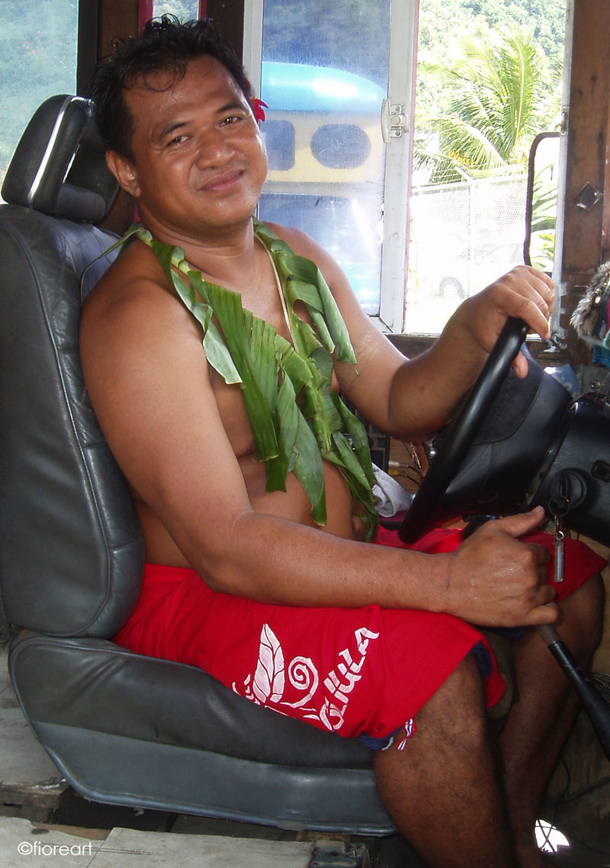 Once, I took a bus from the port town of Limon, Costa Rica to Chahuita, a small town about an hour south. Chahuita (pronounced Kawheet'a) has a national park with trails along the beach, as well as lots of monkeys. I sat in the back of a rickety old bus with a mother and her son. They were carrying several parakeets and let us hold them. The bus stopped and we were boarded by inspectors. She hid the birds in her blouse and he hid the rest of them in his pants. There were tense moments as the birds squirmed around and they tried to hush them. However, we all made it safely back to Limon with plenty of tales to tell.
If you plan to take the bus, inquire in town for schedules, routes and fares. Find a bus with a circle route that will take you around the island, town or countryside and circles back near the pier if you want to just sit back and relax and enjoy the sites without having to walk. Many places have a sightseeing bus circuit on which you can get on and off as desired. I found this to be the case in many locations including Rome and on the Caribbean island of Aruba.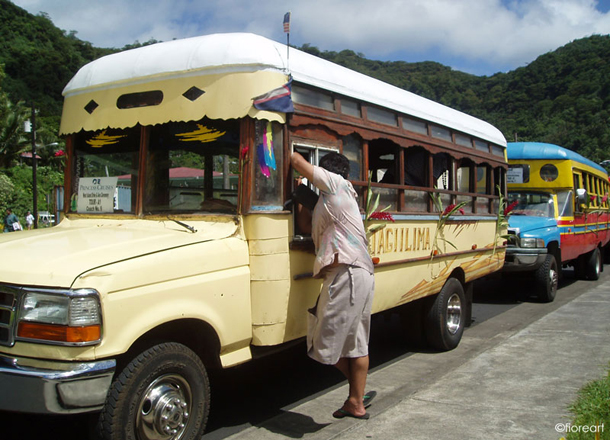 When deciding whether or not to rely on buses, think about your sightseeing plans and see if the local bus system is frequent and extensive enough to suit your needs. The answer will be different for everyone. For example, a group of my friends recently returned from a Hawaiian cruise for which they landed in Oahu a week ahead of time. They rented a car for the week, but found that they only used it two days. Buses were readily available to take them to popular spots around the island.
On the other hand, I once spent a week on Oahu and I used the public buses extensively – but wished I'd rented a car. The bus system was extensive and it was easy to accomplish sightseeing and shopping tasks armed with a bus schedule. However, given the chance to do it over, I would rent a car for a few days to reach those more remote locations on my own schedule.
What is your preferred mode of transport when exploring local towns and villages? Do you find one method more interesting or efficient than others?