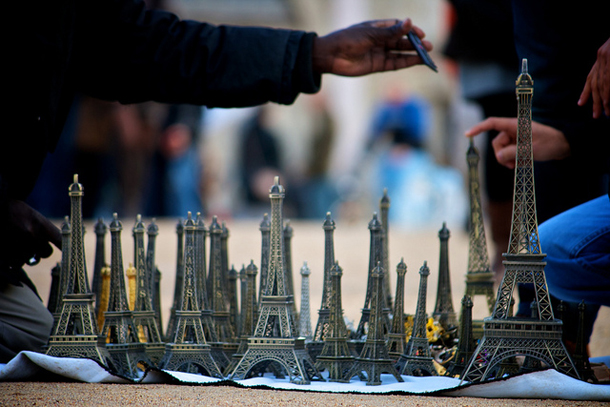 This is a guest post by Kate Stendahl Meier.

On my travels I often struggle at markets and in shops because I tend to want to bring home "treasures" for myself and for friends and relatives. Maybe your girlfriend asked for French books for her son. Or your mom's birthday is coming up and you want to get her something exotic. Or the ornaments at the Christmas Market in Brussels are just too good to pass up. Here are some tips for what to avoid, what to purchase and the best ways of getting it home.
1. What NOT to bring home
There is a near-infinite list of things you should not bring home from a journey. Anything violating the customs and border control regulations of your country is a good place to start. In most countries this includes illegal drugs, some antiquities, parts of endangered animals, counterfeits, large amounts of cash, explosives, weapons and more. It also may include fresh fruits, vegetables, meats, cheeses and live creatures. Use common sense.
It's tempting to bring a snack from the plane. Keep the chocolate, but either eat or toss the apple before you get to customs and border patrol. Often if food is dried, baked, canned or commercially processed you can more easily bring it across a border. If you aren't sure, stick to things like tea, candy, jam, cookies and other packaged foods. That Costa Rican pineapple is delicious, but you don't want to have to pay a fine and watch someone throw it away. Remember there are usually limits on how much alcohol you can bring through as well.
Agricultural and other customs regulations can be frustrating, but they exist for the safety of travelers and to prevent disease in humans, plants and animals. I once brought home an elk antler I found in a bog in Sweden, assuming it would be taken from me. The agriculture officers examined the antler, cleaned off the remaining bits of fur, handed it back to me and said thank you. The important lesson is to declare what you are bringing in to the country, even if you are unsure.  Much better that the customs officials learn about the purchase from you than a sniffer dog.
2. Research big purchases
Don't make big purchases like diamonds in South Africa, rugs in Istanbul, or antique ceramics in Xian if you don't know what you are looking at or if the seller is not a reputable dealer. It is easy for tourists to be duped, so don't become a statistic. If you pay $10 for a vase because you like it, and find out later that it is not antique, you still have a vase that you find attractive. Imagine if you spent $1000. You wouldn't buy something you hadn't researched at home, so don't do it abroad.
Another thing to consider is whether you want to be responsible for carrying around a valuable item for the rest of your voyage. The stress of worrying about the possibility of theft or breakage can affect your enjoyment. Shipping the item can help alleviate this problem, although there are documented cases of travelers' purchases never arriving. Take the object to the post office or a reputable shipping company yourself, and be sure to get insurance.
3. Don't buy just to buy
It can be really tempting to buy things when you are traveling. Remember that often your tour guide will get a kickback on purchases. Even if the glassblowing demonstration was amazing, or the blind artists did a great job making the laquerware, think about whether the piece will fit with your other possessions. If you are at a factory that employs the disabled or homeless but you decide you just don't want to pay to ship a big piece of art, think about giving the organization a donation. As William Morris said, "Have nothing in your houses that you do not know to be useful, or believe to be beautiful." If you won't realistically learn to play chess on the hand-carved marble set, leave it at the store for someone else to purchase. The cost of an extra suitcase on the flight home might mean that it isn't the bargain you think it is.
4. Do the math
When you're on vacation and relaxed, it is tempting to forget the exchange rates and fees. Coming home to a giant credit card bill will quickly erase your vacation bliss. If you actually figure out what an item might cost, you will at least be able to compare it with similar things you could obtain at home. I once bought a bunch of tea at the original Twinings on the Strand in London, and brought it home only to find that it was less expensive at my local grocery store. The more expensive the purchase, the more you will want to figure out the exact cost.
5. Keep it small
There are few things worse than buying large, unwieldy or breakable items at the beginning of a trip and having to cart them around. Either buy small things, wait until the end of your journey, or mail your souvenirs home. As someone who has traveled to English weddings with a hatbox, and I can tell you that this American girl really thought about leaving that expensive parcel in an airport trash can more than once.
6. Give yourself a "trip present"
A small, hopefully useful, souvenir is a great way to remember a trip. I am not a huge fan of knickknacks, so I usually treat myself to a necklace, a piece of clothing, or a local delicacy. They don't need to be expensive, but I love wearing and using these "treasures" because they remind me of my adventures. Besides, if a friend asks you where you bought it, you get to casually say, "Oh this old thing? I had it made in the Jade Market in Hong Kong. How nice of you to notice."
7. Buy regional specialties
One of my favorite things to do when traveling in France is sampling the produits régionaux. In Honfleur, this might be Calvados (apple brandy) with your buckwheat galette. In Marseille, you might use olive oil soap to wash your hands before eating your bouillabaisse. You can't bring your meals home, but the Calvados and the soap can easily travel with you. Don't forget a sachet of dried lavender in Provence! Local products often help small family businesses stay alive and make great gifts.
8. Photos
Rather than focusing on shopping on your trip, take some great photos. Posting pictures to Facebook and Instagram is great, but if your friends and family like souvenirs, consider printing and framing a photo once you are home. It will free up time and money while you are traveling, and it's classier and cheaper than a t-shirt that says "Bangkok" on it anyway.
9. Seasonal household items
Holiday decorations are always fun to bring home. The Swedes have great Easter decorations, and even if you're not Chinese, it's fun to celebrate Lunar New Year with a lot of red. A table runner, pillow cover or wall hanging doesn't take up much space but might be something you'll enjoy for a long time.
10. Snail mail
Postcards are inexpensive and a great way to remember your travels. Rather than a utility bill, the recipient gets a note from you and the opportunity to learn about an exotic place. People of all ages enjoy postcards, but children and older people are especially appreciative of a handwritten message with pictures and exotic stamps. When traveling abroad I bring a list of addresses in my wallet because often phone and data charges can add up. If you are making a domestic trip you can even take your own postcard stamps so you can avoid the search for a post office. Consider sending yourself a postcard and keeping it as a memento.
11. Recipes
Consider taking a cooking class where you get to shop for ingredients at a market and return to a kitchen to make local food. You can't always recreate recipes at home, but it is worth a try. You may have to modify the recipe but your guests will still enjoy your pho, tagine, or pavlova. And don't forget to use the great tea towel or trivet you picked up for yourself!
12. Bring an extra bag
Throughout my travels I have learned to pack a cloth shopping bag in the outside pocket of my suitcase. If it has a zipper top, that is even better. The bag means you are less likely to have to purchase or use plastic shopping bags, and that you have another receptacle for your acquired gems. When you are ready to travel home, decide whether it is best to carry on your fragile items or to pack them amongst laundry. Another option is to fill the cloth bag with clothing, shoes, or other non-breakable items and check the bag as luggage.
What goodies do you bring home from your travels and why?
Kate Stendahl Meier is a freelance writer, legal recruiter and lawyer currently based in Chicago. She writes on traveling, cooking, art, and learning about the world. See more of her work at www.katestendahl.com
[Photo credit: VeZoul]