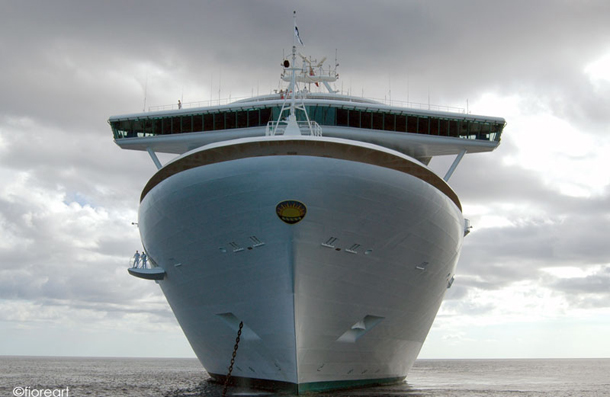 Are you concerned about catching norovirus or other illnesses aboard a cruise ship? Norovirus is almost as widespread as the common cold and has the potential to ruin a few precious travel days if you do not take precautions. I should know – I caught it aboard a cruise ship and was confined to my stateroom which was eventually sanitized by a hazmat team.
I have to admit that I don't recall ever hearing about norovirus before I started cruising. Even now when it is mentioned in the media it is in the context of an outbreak on a cruise ship. Since stories in the media of norovirus epidemics on cruise ships can be worrisome, it is time to sort out the facts and see how cruise lines stack up on this issue and what they are doing to safeguard your health while you are a guest onboard.
What is norovirus?
Norovirus is a gastrointestinal illness that affects the stomach and intestines and can result in diarrhea, stomach cramps and/or vomiting. It is transmitted from person to person by touching infected surfaces or objects and then touching your mouth, nose or eyes. It can also be transmitted through contaminated food or liquids, in the same way as most viruses. It is not serious and lasts only a day or two, however, this is not what you want to experience while on holiday.
Why does norovirus break out on cruise ships?
Cruise ships don't have a monopoly on norovirus. Actually, most cases of this gastrointestinal illness occur on land. Nearly two-thirds of norovirus cases that occur in the US are in long-term health care facilities such as hospitals and nursing homes. Places where people gather and food is prepared such as in restaurants, summer camps and schools outbreaks also occur. Cruise ships fit this profile.
In fact, according to the US Centers for disease control (CDC)  and the Cruise Lines International Association (CLIA) only .027% of cruise passengers (2,791) became in ill in 2012 as opposed to about 21 million norovirus cases typically reported across the US annually.
So, why do we primarily hear about norovirus in the context of cruise ships? Health officials are required to track and report illness on cruise ships. This is not required at hotels, resorts and restaurants. I suspect it is also because passengers pay for a vacation on cruise ships and expect to have lots of great food and a good time; it is where being sick is especially bad news.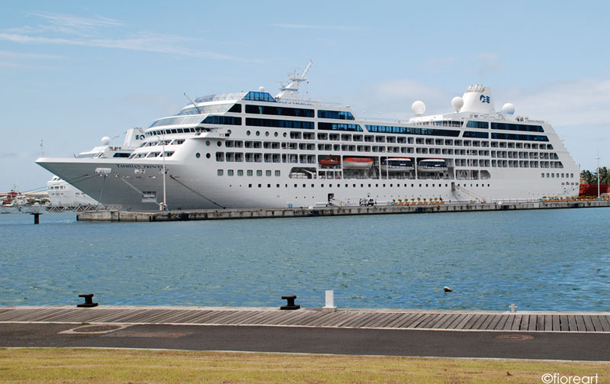 What are cruise ships doing to prevent this illness and keep it from spreading?
Cruise lines take sanitation and contagious illness prevention very seriously. Cruise line passengers are required to check in for identification purposes when entering the cruise ship terminal and many cruise lines require the completion of a pre-boarding health questionnaire. The questionnaire attempts to identify and prevent sick passengers from bringing the virus onboard with them. If personnel observe obvious signs of illness or you answer yes to questions such as "have you had an elevated temperature, thrown up or had diarrhea in the last 72 hours", you may be interviewed by ship medical personnel and not be allowed to check in and board the ship.
Ships are not required to offer refunds at this point, but you may be offered some options. In fact, ships have their behinds well covered for most eventualities. You may find skimming this sample ticket contract for Carnival ships interesting. However, cruise lines aim to please and want your repeat business so they tend to be as accommodating as possible while keeping the welfare and safety of all passengers in mind. If you are ill before your voyage, contact your doctor to see if it is safe for you to sail, then contact the cruise line to discuss your options.
Antibacterial hand cleansing stations are everywhere on cruise ships. As a matter of fact you may be greeted by a crew member eager to squirt antibacterial foam into your hands before you step onto the gangway to board the ship the first time and every time you return from a port adventure.  There are antibacterial stations before entering dining rooms, at the entrance to the buffet lines, near the stairwells and entrances and exits. Housekeeping staff are continuously wiping down handrails, doorknobs and elevator buttons.
Dining staff are constantly trained in food handling techniques to prevent the spread of diseases in the galley and dining areas. If there is a disease outbreak, you are likely to be served on buffet lines rather than helping yourself. Single serving condiments may also replace dispensers such as salt and pepper shakers.
Room stewards tidy up and clean your room twice a day. Unlike what you might experience in a hotel room, all surfaces are regularly sanitized on a cruise ship.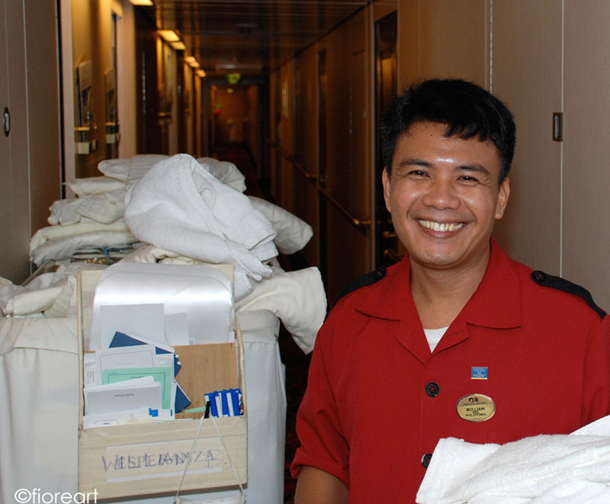 What should I do if there's an outbreak?
I caught norovirus once during a four year period of nearly continuous cruising and haven't experienced it since. However, it was enough to teach me some lessons.
If there is an outbreak aboard your ship the best thing you can do is wash your hands thoroughly and use antibacterial soap, wipes, gel or foam. This is especially important after using the toilet and before eating or smoking. Keep your hands away from your eyes and nose to avoid risk of infecting yourself through those avenues. Don't share food, drink, or utensils with others.
What happens if I catch norovirus during the cruise?
I suggest calling the clinic and following the medical staff's recommendations. You will be encouraged to drink plenty of liquids to prevent dehydration, to get extra rest to rebuild your immune system and possibly be provided with medication to minimize your symptoms. I always carry anti-diarrheal medication with me when traveling, just in case.
Ill passengers are voluntarily confined to their staterooms until symptoms have subsided in an effort to reduce the risk of spreading illness. This is important to keep in mind when seeking help from the onboard clinic. Even if you attempt to hide your illness, your room steward is likely to discover it. If you are sharing your stateroom, your roommate will need to be extra cautious.
I once experienced symptoms and visited the clinic where I was given medication and strongly encouraged not to cross the threshold to leave my stateroom until 24 hours after symptoms were gone. My room was quarantined and room service delivered food outside my door. When I was well, a pair of crew members in hazmat suits sanitized my room.
If you are a frequent cruiser, there is a decent chance that there will be an outbreak large or small, on a ship that you are on. But remember that less than 1% of cruise ship passengers catch norovirus and experience its symptoms. You don't have to be one of them.
Have you ever been screened for illness before boarding an airplane or checking into a hotel? Have you ever fallen ill after taking a flight? Why do you think there is so much media coverage about norovirus on cruise ships?