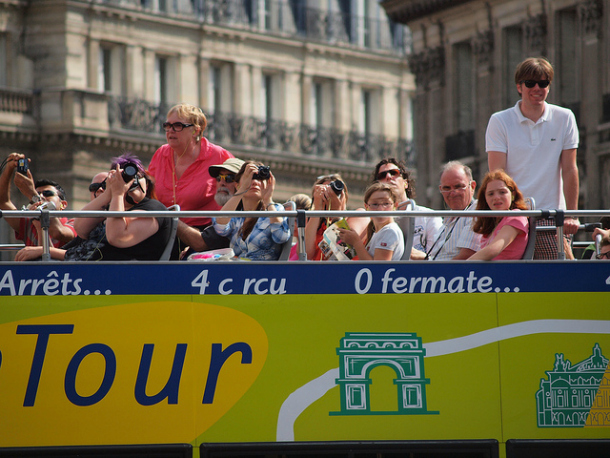 Sometimes I have only a day – or even just a few hours – to see a city. Whether I'm passing through town during an overland journey or I have a flight that is transiting in the city, figuring out what to see during that short period can be tough. I mean, when you have a 300-page guidebook dedicated to that one city alone, how do you sort through it to figure out what you can squeeze into your five-hour window?
Obviously, you can't do everything a city has to offer during a short transit, but that doesn't mean you can't hit some of the highlights and get a taste of what the city has to offer. Here are a few ways you can squeeze in some sightseeing and make the most out of your layover.
1. Take the airport tour
A number of major airports around the world offer city tours to travelers who have a transit of at least a couple of hours. Usually, you're loaded onto a bus which takes you to some of the major tourist attractions in the city where you can hop off and be led by a guide. While that might sound kind of sterile, it's not necessarily the case – I've had the chance to eat street food and go on a boat road during one of the (free) airport tours in Singapore.
A big advantage of tours like is that you can often go on them without having to pass through immigration and customs (there's usually some paperwork involved but nothing too onerous). You also don't have to waste precious time trying to figure out where to go and how to get there. Some tours charge a small fee while others are completely free to join. A few cities that offer airport transit tours include Istanbul, Frankfurt, Panama, Seoul, and Singapore.
2. Leave your luggage behind
If you've only got a few hours to kill between flights, don't bother trying to haul any bags with you into town. Most airports have a secure baggage storage facility or lockers of some sort, so ditch the luggage and travel as lightly as possible.
3. Figure out the fastest way into town
You want to spend your transit time sightseeing, not traveling, so it pays to work out the best method of getting downtown. But remember that taxis are not always the quickest option – some cities have excellent public transport connections to the airport so taking the subway might actually be faster than a cab that has to sit in traffic. It all depends on the destination, so read up in advance.
4. Enjoy cocktails with a view
I really think there's something about finding a great vantage point gives you a sense of having "seen" a city, even if it's only from afar. If you're going to do this one, I suggest skipping the overpriced and crowded observation decks and heading to a bar located at the top of a skyscraper. That way you can do double duty and sip a cocktail while taking in fabulous views of the city.
5. Eat street food
A visit to a city isn't complete if you don't sample at least some of the local food, but when you're pressed for time, the last thing you want to do is waste it waiting for table service. Instead, pick up some hot and ready street food and get a real taste of the local cuisine. If you want to learn more about how to spot a good meal, check out this guide to finding great food when traveling.
6. Take a museum tour
Lots of museums and art galleries offer guided tours that last from 30 minutes to an hour. Instead of wandering around the museum and missing the big stuff because you don't know what to look out for, you'll be able to see the highlights, learn something about them, and get out of the museum faster. As far as I'm concerned, it's much better to see a couple of great things thoroughly than blindly breeze through tons of exhibits.
7. Do a double-decker bus tour
This is one of those tours where you sit on a brightly-painted open-air bus, pop on some headphones and listen to commentary as you pass historic sites. If you only have a short transit, they are a good way to quickly get a sense of a city. However, if you have more time, I'd recommend a walking tour (see the next tip) since you are given a bit more time to see each attraction and are often able to go into buildings.
8. Do a walking tour of the city
Most cities offer walking tours, often run by enthusiastic locals and history lovers who work on a donation-only basis. These kinds of tours are perfect for travelers who want to hit up a number of sights in a short space of time and learn something in the process. I've done these tours even when I'm not on a short layover just because I find the commentary so insightful and end up visiting buildings or places I wouldn't have otherwise thought to.
9. See something that's unmissable for you
Don't just see the things that a guidebook or your friends tell you are the must-sees – do whatever it is that floats your boat. If you're an art lover, go see that amazing gallery, and if you're a foodie, go eat that meal you can't have anywhere else. If you've only got a short time to sight-see, do at least one amazing thing that will make the transit worth writing home about.
Have you had any incredible layovers? What's your favorite thing to do on a super short trip?
[Photo credit: zoetnet, Flickr]