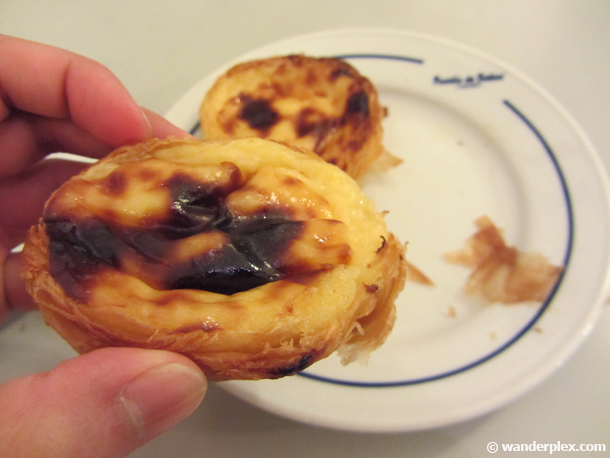 Have you ever eaten something you just can't stop thinking about? Something that was so good that days, weeks, or even months later it's still on your mind?
I've always had a soft spot for custard, but after visiting Portugal I just can't stop fantasizing about Pastéis de Belém, an egg custard tart made using a secret recipe dreamt up by Catholic monks.
You see, the area just west of Lisbon known as Belém is home to an ornate monastery called the Mosteiro dos Jerónimos. However in 1820, a revolution in Portugal forced all of the country's convents to shut down and by 1833 the Mosteiro dos Jerónimos was closed down too.
Desperate to find a way to earn a living, the monks began to bake and sell pastries out of the monastery to the many travelers passing through the area. On the menu: egg custard tarts.
Why custard? Well, at the time, Portugal was one of the biggest egg producers in Europe. The whites were used for things like wine purification (port wine, for instance, comes from Portugal) and starching clothes. That left a lot of egg yolks lying around – perfect for making custard. A sugar cane refinery located right beside the monastery meant there was plenty of sugar, sealing the deal.
The pastries sold by the monks quickly came to be known as Pastéis de Belém, and in 1837, a shop opened up next to the monastery dedicated to baking up the sweet treat. Just about every café in Portugal serves a similar egg tart – known as Pastéis de Nata – but only the Pastéis de Belém café makes the dessert using the original recipe which has been kept secret and passed down from generation to generation.
After taste-testing lots of pastéis around the country (all in the name of research of course) I'm definitely partial to the original pastry – it's not quite as sweet as most other variations, the texture is smoother and creamier, and the flaky pastry has that satisfying crunch. I even made a second trip back to Belém just to go to the bakery. Yes, it's that good.
Wanderplex Tips:
There's almost always a long line winding around the front of the café but you only need to wait if you are buying your pastry to go (take away). If you want to sit and enjoy the dessert inside, you can walk straight inside the café through a separate entrance to the left of the long line of people.
The café looks really small when you first enter and many patrons hover around the handful of tables waiting for one to clear. There's no need to wait – this is actually a cavernous pastry shop and if you step deeper inside the café (go beyond the restrooms) you'll see another massive room with dozens of places to sit.
Ask for cinnamon and powdered sugar with your pastry. They don't always give it to you unless you request it, but the cinnamon in particular goes brilliantly with the custard.
Even if you're getting your pastry to go, be sure to walk into the back of the café where you can see through to the kitchen where the Pastéis de Belém are being prepared. You'll see chefs organizing row upon row of the delicious treat.
Final tip: buy two pastries. Trust me, the first one goes down way too quickly and easily and you'll just end up joining the line all over again…
Pastéis de Belém is located at Rua Belém 84-92 (a short bus or tram ride from Lisbon). The great news is that despite its popularity, prices at the café are still very reasonable – a Pastéis de Belém will set you back €1,05 and coffee prices start at €0.75.