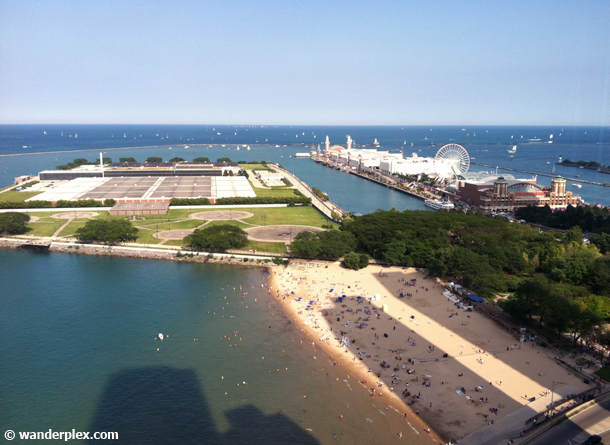 Make sure you scroll all the way to the bottom of this post and enter the giveaway to win an amazing hotel stay at any Starwood property around the world!
Despite my best intentions, I always end up traveling over the summer, which is a pity because this is really the season when Chicago is at its best. So this year, I've was determined to stay put, and when Starwood Hotels offered me the chance to take a mini staycation as part of their My Summer Story campaign, I jumped at the opportunity. It was great to get away without having to deal with any airports or other travel nuisances and it was the perfect excuse to explore my own city.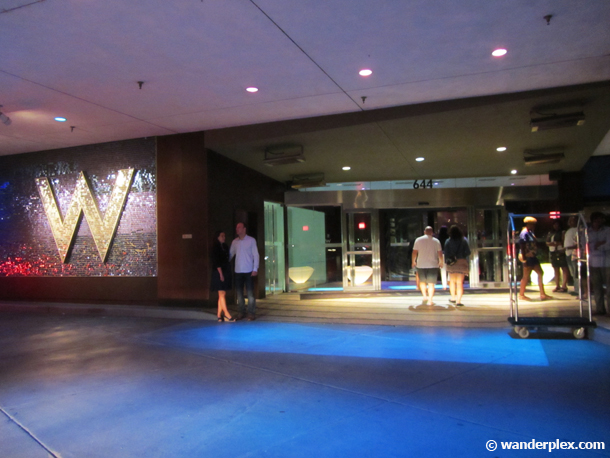 I stayed at the W Chicago Lakeshore which is a funky high-rise hotel with sweeping views of Lake Michigan, and nearby attractions like Navy Pier and the beach (see the photo at the top of the post). What's nice is that even if you don't get a room with a lake view, you can still soak it all in from the indoor pool or from one of the hotel's several bars.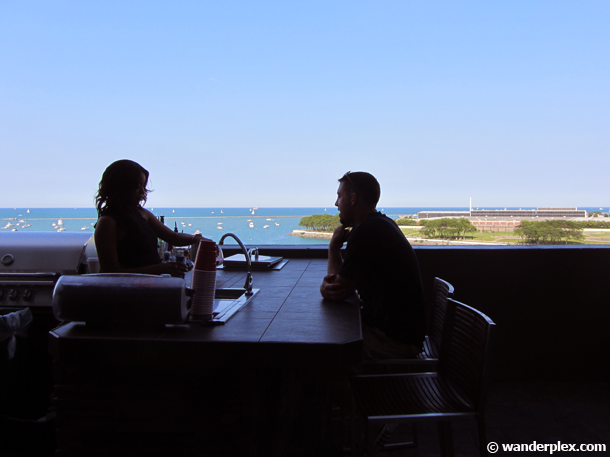 The furniture and lighting all has that boutique-y designer feel to it and I saw lots of guests taking advantage of the bar, restaurant, and chill-out area near the lobby. But being right downtown, the hotel was also a great base for exploring everything Chicago has to offer. Here are a few of the things that I've been up to…
Living It Up At Music & Street Festivals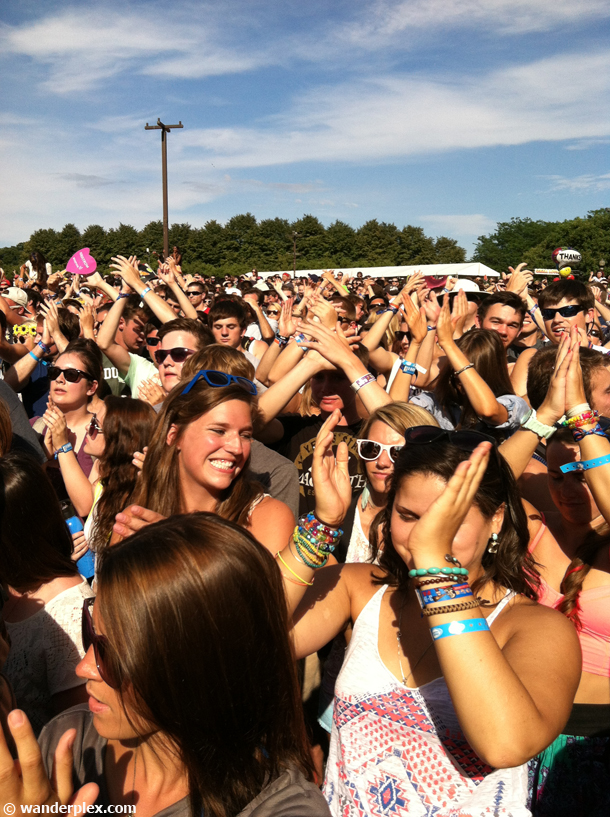 There must be hundreds of music and street festivals each summer in Chicago – I think because we go into hibernation for so much of the year, come summertime, we go a little overboard with the outdoor events. Not that I'm complaining.
One festival that I made it to for the first time this year was Lollapalooza. I realize my lack of attendance in prior years is kind of blasphemous given that people travel from all over the country to see their favorite bands at this massive three-day festival, but I finally got my act together early enough to buy tickets this year and join in the fray.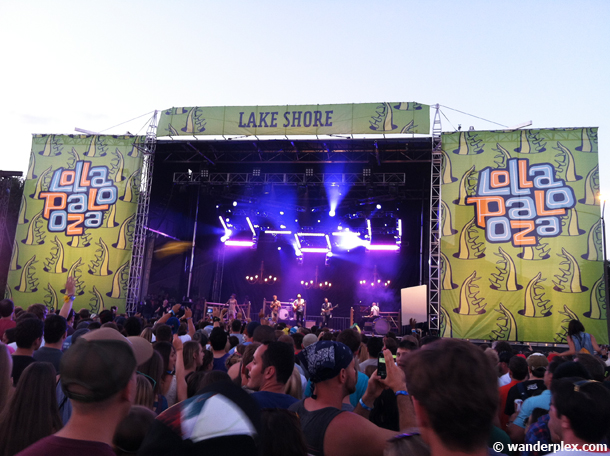 Of course, there are plenty of free festivals in Chicago too, covering every niche you can think of. A couple I made it too included the Wicker Park Green Music Fest (featuring all things sustainable and eco-friendly), the Randolph Street Market (filled to the brim with all manner of antiques and vintage goods), and Taste of Randolph (a street fair with food, music, and random stalls selling everything from vintage posters to jewelry).
But the award for the most bizarre festival I came across this year had to go to the Scottish Festival and Highland Games, which took place in the Chicago suburbs. There was a haggis hurling contest, a knobbly knees competition, and of course lots of physical events like caber tossing (that's where men dressed in kilts flip giant tree trunks into the air) and sheaf tossing (where bales of hay are hurled over a tall bar). I wasn't kidding when I said there's a festival for everyone in this city.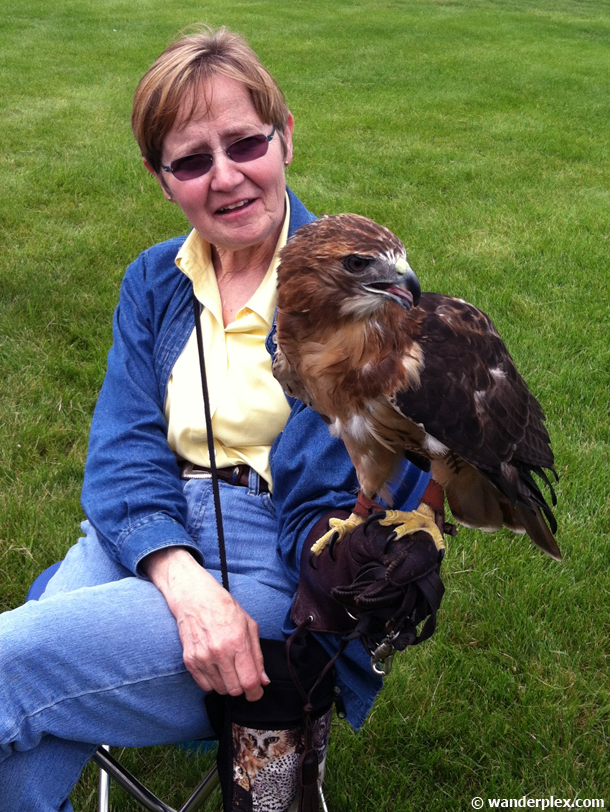 Learning about the art of falconry at the Scottish Festival and Highland Games in Chicago.
Boating On The Chicago River
I've always fantasized about being one of those people lucky enough to own their own boat so I could hit the water whenever I wanted and feel that wet breeze against my skin. But living in a city where it's cold and frosty so much of the year, it wouldn't make much sense, even if I could afford it. The great news though, is that renting a boat in Chicago is actually really easy. In fact, the Chicago Electric Boat Company will let you rent a boat and drive it yourself (as long as you're over 21 and not drinking while you drive) so you really get that "ah, I own the waterways" kind of feeling. As an added bonus, the boats are electric which means they're environmentally friendly (something the not-so-clean Chicago River really needs).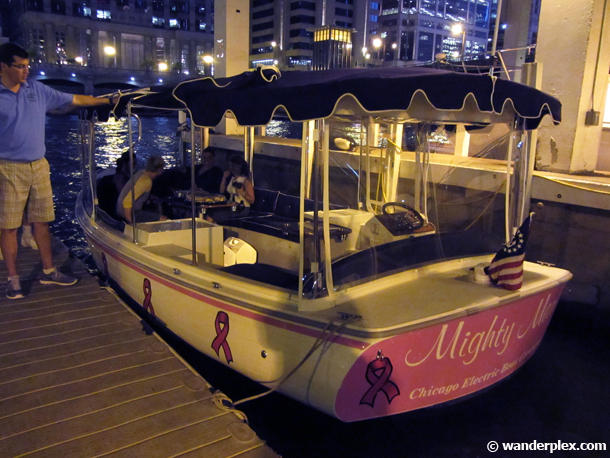 You can fit up to 10 people on one of the boats and you're welcome to bring your own food and booze, so at $150/hour for rental, it works out to be a quite an affordable night out. The views along the Chicago River are spectacular to say the least and a boat ride is one of the best ways to take in the architecture the city is so famous for (plus, if you hit the water on a Wednesday night like I did, you can catch the regularly scheduled fireworks near Navy Pier).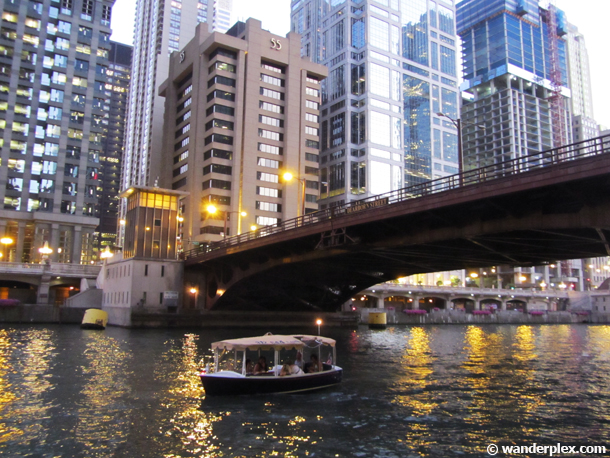 Watching Live Comedy
Second City is another Chicago institution I'm embarrassed to admit I'd never made to before, so I was determined to set things right this summer. For such a well known comedy club, I'm blown away by how affordable tickets to shows are (most performances cost $23-28 although I've seen tickets for as little as $12) and if you want to make a night of it, you can also get some great pre-theater dinner deals at nearby restaurants. I think comedy shows can be rather hit or miss (you've got to have the same sense of humor as the writers & performers after all) but I'm happy to say there were plenty of haha moments and I'll definitely be going back.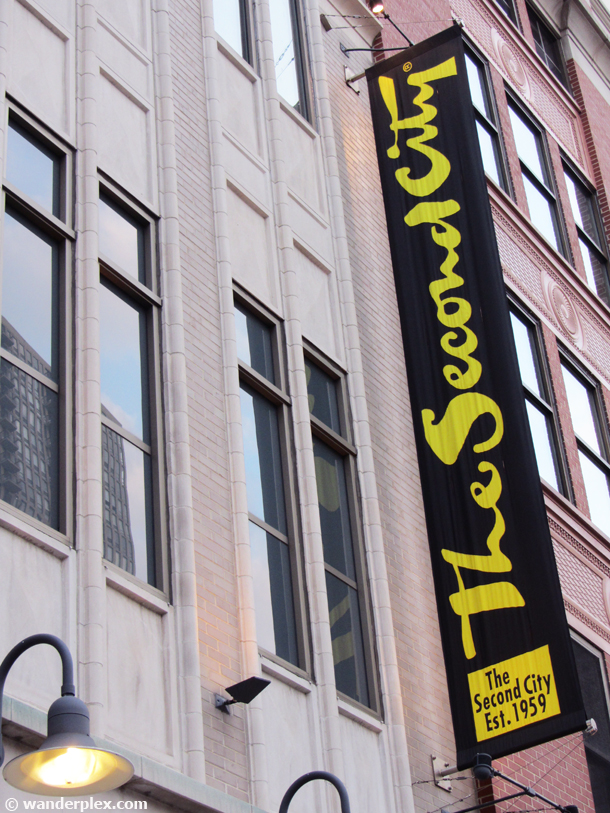 Discovering New Restaurants
When it comes to breakfast, I've always been boring and predictable, chowing down a bowl of muesli religiously each morning. And although summer is the perfect time to sit outside and enjoy brunch, I have a hard time stomaching the idea of super greasy or super sugary foods for my first meal of the day. That's why I was stoked to discover Yolk, a chain of brunch restaurants in Chicago that serve up some devilish-looking but actually really healthy breakfast options, in addition to all the standard brunch fare.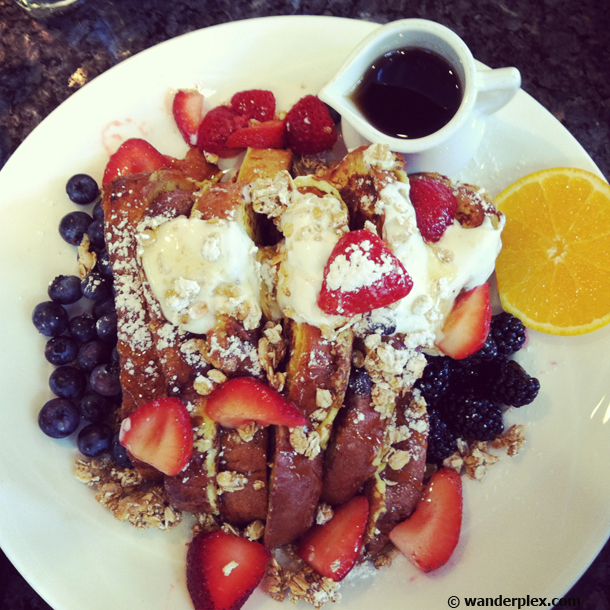 My French toast looked intense and completely indulgent, but in actual fact was loaded with goodies like greek yoghurt, granola, honey, and fresh berries.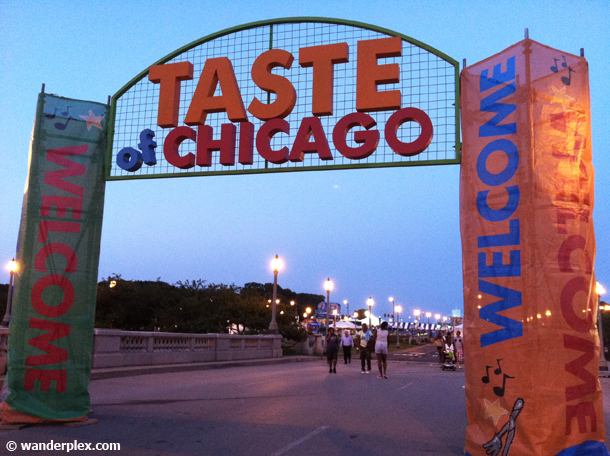 I always love to picnic when I'm traveling since it's a budget way to enjoy million dollar views (and eating with your hands never loses its novelty). So what better than picnicking with millions of others at Grant Park during Taste of Chicago, a giant outdoor food festival (the biggest in the country, actually)? You get to try small portions of food from hundreds of different vendors and hopefully discover a favorite new Chicago restaurant in the process.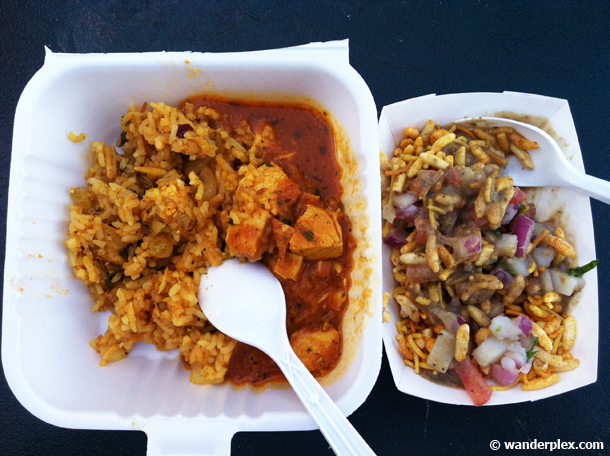 My pick this year was the mouth-watering curry and Behl Puri by Bombay Spice Grill.
I also finally got around to trying out Xoco (pronounced show-co), the Mexican café by Rick Bayless in the city's River North district. This joint serves up an amazing array of gourmet tortas with fillings like braised shortribs, wood roasted suckling pig, and garlic chicken topped with artisanal cheeses and spicy salsas.
Note: if you're flying through O'Hare airport, you can grab a similar torta at Frontera Grill (also by Rick Bayless) which has locations in Terminals 1, 3, and 5. The food holds up exceptionally well if you're buying it to eat on the plane, but there's often a 15-20 minute wait since the place is so popular – allow extra time!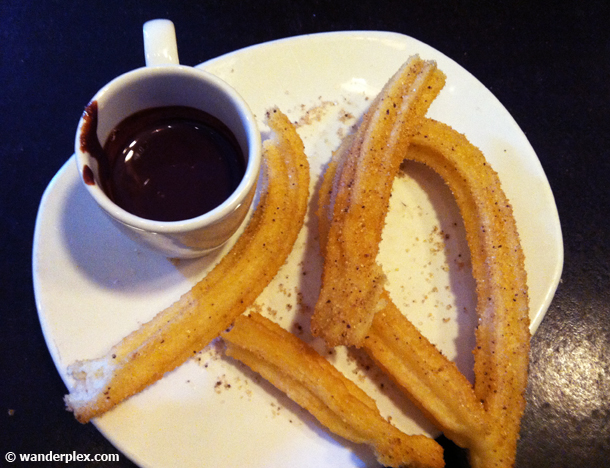 Make sure you save room for dessert at Xoco because the churros with a shot of dipping chocolate are incredible. I couldn't even wait long enough to take a photo before digging in.
Hitting The Beach
And last but not least, there's the beach. I mean, it's not really summer without a trip to the beach, right? Growing up in Australia where there's a strong beach-centric culture, I used to think living in Chicago would mean having to give up the sun and sand. But despite being inland, the Windy City actually has some great lakefront strips of beach with pretty spectacular skyline views to boot.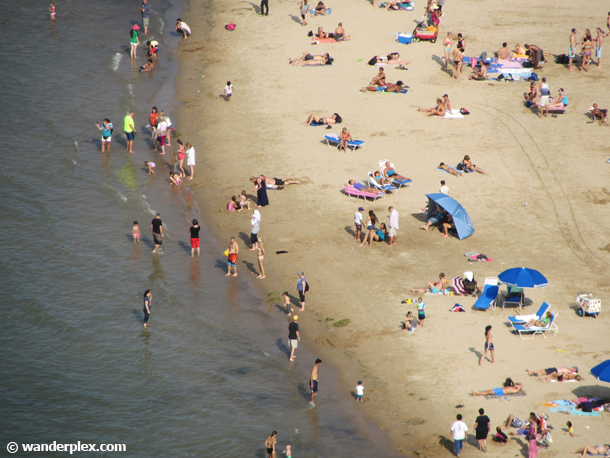 The Ohio Street Beach was easy to access from the W Hotel where I was staying and the tall buildings nearby cast shadows across the sand, providing welcome respite from the heat. I also love the North Avenue Beach since the music blasting from Castaways (a bar and grill shaped like a ship) always reminds me of fun European beach clubs.
What have you been up to this summer? Let me know below and by tweeting me with the hashtag #mysummerstory
Your Chance To Win!
As part of the My Summer Story campaign, Starwood is giving one lucky reader the chance to experience their own amazing hotel stay. You'll get 16,000 Starwood points that you can redeem at any participating Starwood hotel around the world (that includes brands like Sheraton, W, Le Meridien, and St Regis, among others). Depending on where you choose to stay, that could be up to one week free in a luxurious hotel! Just enter the competition below by and one lucky winner will be chosen randomly. The winner will be notified via e-mail. Good luck!
My stay at the W Chicago Lakeshore was courtesy of Starwood. I was also a guest of the Chicago Electric Boat Company. As always, opinions are my own.