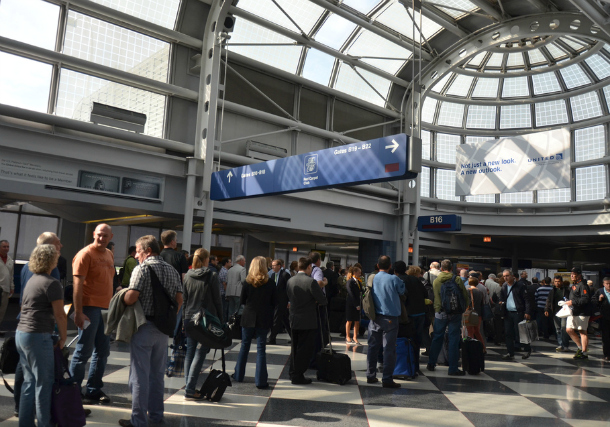 Well, the holiday season is upon us once again, and as exciting as it is to spend time with friends and family, getting there is always a real chore. Tens of millions of people are packing the airports to fly home over just a handful of days – many of whom are not frequent fliers and therefore don't necessarily know their way around, further adding to the sense of chaos. Throw in inclement weather, oversold flights, and extra-long security lines, and you've got a recipe for a real travel headache. But there are always things you can do to stay ahead of the pack – here are some tips for surviving the holiday travel season.
Consider buying an airport lounge day pass
Did you realize that even if you're not a frequent flier, you can still enjoy access to a VIP lounge? These days, many airline lounges will let you purchase a day pass which can cost anywhere from $20-$50. While domestic lounge amenities vary widely, you'll typically get access to comfy seating, snacks and drinks (this alone can often make the entry fee worthwhile), magazines and newspapers, computer terminals (or at least a table with outlets where you can plug in your laptop), potentially free wifi, as well as the assistance of staff (which can be helpful if you're dealing with flight delays or cancellations). And most importantly, lounge access buys you some peace and quiet, which can be pretty hard to come by in airports during the holiday period.
Try to board the plane early
There's never enough room in the overhead bins for everyone's luggage, and the last people on the flight will almost inevitably have to gate-check their carry on. If you don't want to risk losing your bag or having to wait for it at baggage claim (I know they're supposed to give you your gate-checked bag as soon as you step off the plane, but I've had experiences where I was forced to hike all the way to luggage claim and wait for my bag at the carousel), then try to board early.
Some airlines such as Southwest don't have reserved seating, so the earlier you check-in, the higher up you'll be in the boarding priority groups. Where there is reserved seating, it usually makes sense to select a seat towards the back of the plane since most airlines board flights from back to front. A few carriers board planes from the outside in, meaning window seats board first, then middle seats, then passengers sitting in the aisle seats. If you want to cover all your bases, you may want to book a window seat towards the back of the plane.
Bring your own food
It's always hard to predict how long you'll be stuck in the airport, especially if bad weather is wreaking havoc on flight schedules, but chances are you'll need to eat at some point. Since most of the food options at airports tend to be of the unhealthy/unappetizing variety and any good options there may be are plagued by long lines of harried travelers, it's worth packing some food from home. At the very least, bring along a few snacks – if your flight is delayed or you're traveling with kids, it's nice to have some granola bars, trail mix, fruit etc. to nibble on. Besides, you're traveling for the holidays… save yourself from consuming those extra-greasy calories at the airport so that you can indulge in some good holiday fare when you get to your destination!
Pack noise-cancelling headphones
Airports often involve a lot of sitting around and waiting, but it can be hard to relax when there are so many people milling about or yammering on their phones and those PA announcements are going off every thirty seconds. A pair of noise-cancelling headphones like these can be a real sanity saver, allowing you to listen to music, get work done, or read in peace. If you don't want to pack anything bulky, bring along some high quality earplugs – they can at least block out some of the cling and clatter while you bury your nose in a book.
P.S. This ultimate list of Thanksgiving travel tips has many more ideas about how to make the most of a holiday road trip or flight.
Also, here are some tips for stress-free travel during the holiday season.
[Photo credit: Michael Kappel, Flickr]